A brief guide to fix SSL Connection Errors on Chrome
Google Chrome has transformed into the most widely used internet browser since its introduction in September 2008. It has surpassed Mozilla Firefox, Internet Explorer and also Opera Mini. This is because users enjoy its simplicity and accuracy when they are browsing. It is also the most secure browser in the world. Thus, it can be safely assumed that Chrome browser offers security, safety, and speed.


There is some deep technical stuff about SSL connection errors on Google Chrome, which requires some insights from the user. It is necessary to have enough knowledge because it is a very common occurrence for any Google Chrome user. In this article, we will discuss on possible reasons behind the occurring SSL connection errors in chrome browser.
What is SSL certificate?
The main purpose of an SSL certificate is to secure the communication between the server and the client who is using it. In that case, all the data that are transferred and used are encrypted with the help of the cryptographic algorithms. These are not accessible to other parties and no one can trespass this area.
These SSL certificates have become a common occurrence for any Chrome user because the company Google is very much concerned about the safety and security of its users. The users these days demand security in order to safeguard themselves from all the problems that can occur from third parties.
Even if there is a single mistake in a particular website, the chrome browser will display an SSL certificate error. This error must not be ignored and must be taken into consideration whenever it is shown in your Chrome browser.
Sometimes, the error that a user may get on Google Chrome states: "Cannot connect to real domain.com".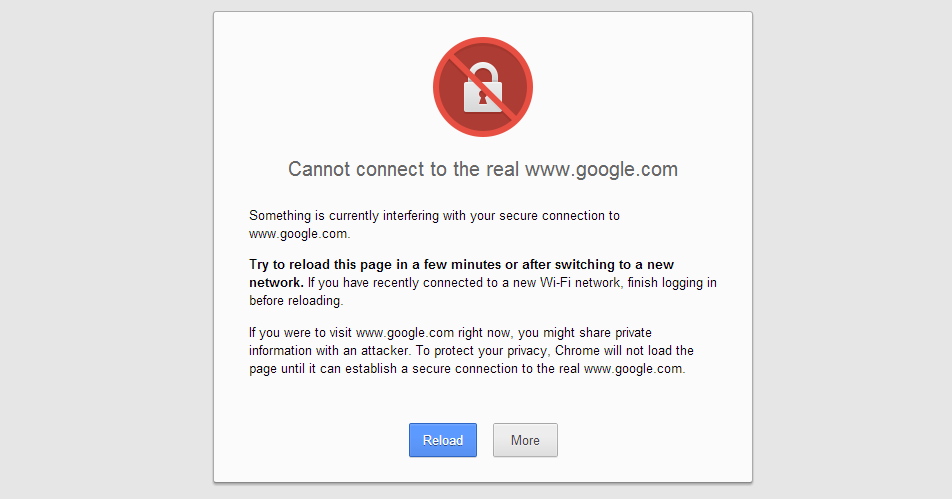 Reasons for SSL Connection Errors
There are numerous reasons for the occurrence of these errors, which are given below.
The time that is displayed in your computer system is not the correct or real time.
The date of your SSL certificate has expired.
The SSL certificate might not have been installed accurately and properly.
Your Google Chrome browser is outdated.
Sometimes antivirus software blocks HTTPS sites.
The website is occurring with older 128-bit encryption.
The website is still using the outdated SHA-1 Algorithm.
A trusted certificate authority has not issued the SSL certificate.
How to Fix SSL Connection Errors?
1. Confirm Date and Time of Your PC
---
When your computer system is performing with inaccurate time, So you will get an error message in Google Chrome. You can easily get rid of this error, You just have to change the time in your computer system based on the country location.
2. Verify certificate expiry
---
If an SSL certificate has expired it can cause a lot of harm in terms of security to the user. If you are an admin of that particular website, you can just renew it or purchase it easily. In case you are not the admin, you will just have to contact the admin of that particular website and explain him this issue.
3. Ensure SSL has been installed properly.
---
In order to lead a particular website in a secure manner on the internet, a proper installation is required. A proper installation means that you will not have to experience any errors in the browsers.
The solution to this problem is that the admin of the website needs to install the SSL certificate correctly on the hosted server. Once the installation process has been completed, use the SSL Checker Tool to examine SSL errors.
4. Use an updated version of Google Chrome
---
If you are a user and you get the message that Chrome is not updated, you have to click on Options >> About Google Chrome, where you will be asked to update the old version, if any found.
5. Disable SSL Scanning from Antivirus
---
If you are using antivirus software then you can be getting an SSL connection error. Actually, antivirus program intended to block unsafe websites and aren't accurate. Sometimes, it blocks secure HTTPS websites due to conflicts between the encryption and programs. To avoid such circumstances, you should make a change in the settings to disable the HTTPS scanning feature of your software.
6. Enable strongest 256-bit encryption instead of 128- bit
---
Google has declared that it will not accept a 128-bit encryption because it is vulnerable and the level of its security is very low.
The solution to this issue is that you as a user will have to contact the certificate authority in order to get a reissue of that particular certificate. If you are planning to buy an SSL certificate, generate CSR with 256-bit encryption and then install it on the web server.
7. Migrate site from outdated algorithm SHA-1 to SHA-2
---
According to the latest announcement made by Google, it is discontinuing the usage of the SHA-1. From the year 2017, SHA-256 will be substituted with the SHA1 algorithm. The reason is SHA-1 is a weak mathematical algorithm and is less secure against developing computer technology and hacking methods. Therefore, it is advisable to move to the SHA-2 algorithm for Google Chrome users.
The solution to SHA-1 is moving your SSL certificate from SHA-1 to SHA-2. Contact SSL CA to reissue the SSL certificate with the SHA-2 algorithm. If you are buying a new SSL certificate, then generate CSR with the SHA-2 algorithm.
8. Get SSL Certificate from Trusted CA
---
Apart from accepting SSL certificates issued by a CA, Google Chrome also accepts a certificate that is self-signed. However, there is a limitation of using a self- signed certificate. This limitation is that the validity of the self- signed certificate is just 90 days as a self-signed certificate is used for testing purpose only. After completion of 90 days, the chrome browser will show the error.
The best solution is always prefer trusted certificate authority for purchasing SSL certificate. There are many types of SSL certificates available in the market, so you should evaluate your business needs to choose the right certificate.
Conclusion:
The above issues are related to security, safety, and speed. If the issues that are explained above are solved just as explained the user can benefit tremendously. There will not be any security problems and all the websites that user browses will be secured.
Apart from Google Chrome, all popular web browsers have their own way of describing an SSL connection errors. As Google Chrome has become the most widely used browser across all masses, it has become necessary to spread the word regarding it.
The SSL certificate's function is to bind the details with a particular cryptographic key of a particular organization. From a typical and common point, the SSL certificates are normally used to secure credit cards, debit card, login details of individuals. Hence, it can be assumed that SSL certificate enables a particular user to do things securely without facing any security issues.
Related Article:
How to Fix SSL Connection Error on Android Phone
How to Fix ERR_CERT_COMMON_NAME_INVALID in Chrome
How to Fix NET::ERR_CERT_AUTHORITY_INVALID Error in Chrome?