Cheap Exchange SSL Certificates
Buy Exchange SSL Certificate (UCC) at cheapest price from SSL2BUY to protect exchange server with modern 256-bit encryption. A single security solution for exchange server environment with the simple renewal process.
Filter by:
Sort by Price: Low To High
Popular
Price: Low To High
Price: High To Low
2 Domains Inclusive
Add Up to 100 standard SANs
Add Up to 100 wildcard SANs
Add/Remove/Replace domains
4 Domains
Add Upto 250 SANs
Multi Purpose
Easy Validation
2 Wildcard Domains
Add Upto 100 Wildcard SANs
Multi Server Licenses
Add/Remove/Replace domains
Buy Microsoft Exchange Server SSL Certificates at Cheap Price
Secure Exchange 2007 / 2010 / 2013 / 2016 / 2019
Exchange SSL certificate is an ideal solution for Microsoft exchange server, office communication server, and QA testing environment. Exchange Server (2003, 2007, 2010, 2013, 2016 and 2019 editions) and office communication servers are used for daily business communication to stay competitive in this modern age. The transfer of sensitive information between the web clients and the server can cause a risk without proper security. The answer to this risk is an Exchange SSL certificate.
A Single Security Solution for Exchange Server
The Exchange Server SSL certificate is the perfect security solution for Microsoft exchange that helps the client protect the ongoing server level of communication with robust encryption.
The certificate allows you to secure multiple domains and hostnames with a single certificate. In addition, all exchange services will have 256-bit encryption, and a third person would not sniff the ongoing communication.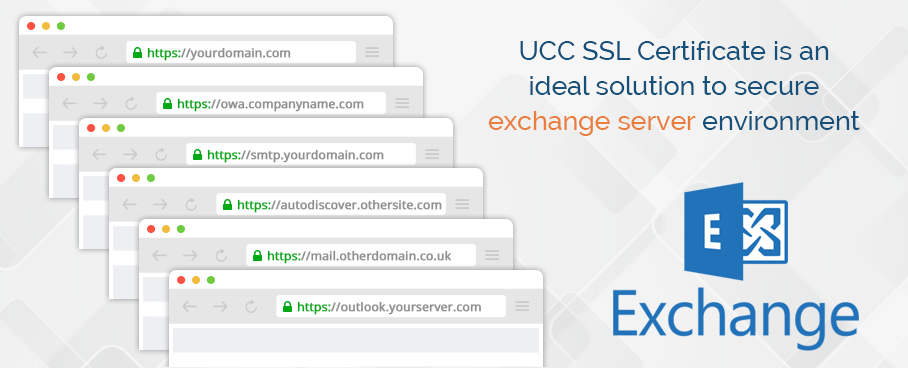 Exchange Server Environment
Installing an SSL certificate on the given servers offers strong encryption that avoids eavesdropping on ongoing communication.
ActiveSync: Microsoft released ActiveSync, which is a mobile synchronization app. You can synchronize data with a desktop PC or server. This app synchronizes contacts, calendars, contacts, and MS outlook tasks. ActiveSync can transfer files to different mobile along with a backup facility.
Autodiscover: Autodiscover is a tool that permits users to configure mobile devices automatically based on login credentials. It helps in downloading offline address books. You can set up Autodiscover for your domain by creating a CNAME resource record.
Outlook Anywhere: Outlook Anywhere is a software that allows users to access corporate emails with outlook 2003, 2007, 2010, 2016 and 2019 even outside the corporate premise. For that, users do not need to login into a VPN. In addition, Outlook Anywhere helps exchange admin manage the connectivity in how outsider persons access corporate exchange servers.
Outlook Web Access: Outlook Web Access previously known, as Outlook Web App, is a browser-based email client that allows users to access MS Exchange server mailboxes from any browser.
Microsoft Lync Server: Microsoft Lync Server is known as Office Communication server, offers IM (instant message), VOIP, ad hoc, audio and video conference as well telephony solution using several domains.
How SSL works in Exchange Server?
Unified Communications certificate is explicitly built for the Microsoft Exchange and Office Communication Server environments. Therefore, an enterprise can get an Exchange SSL certificate for multiple ways that MS Exchange is accessed. For example, Autodiscover, web services, OWA, ActiveSync, Outlook email should be conveyed in a secured environment.
SSL certificate allows the most robust SHA 2 algorithm to transmit emails on the exchange server and authenticate the connecting device and exchange server during the exchange of the information. For example, when you use an SSL certificate, you can do the following tasks:
Can connect to the exchange server via browser in a secure environment with Outlook Web Access.
Use Microsoft Outlook using Outlook Anywhere with better protection.
Mobile device users can connect to the exchange via ActiveSync to synchronize data and receive/send emails securely.
Exchange SSL certificate fulfils the need for low admin expense and provides a rich environment between the server to server and client to server communication.
Secure Microsoft Exchange Server with Exchange SSL Certificate
Exchange SSL certificate is ideal for Microsoft Exchange server 2003, 2007, 2010, 2013, 2016 and 2019 versions, SharePoint, Lync server, and office communication server. The certificate provides a secure environment and is compatible with 99.9% of email clients and web browsers.
SSL Certificate Guide for Microsoft Exchange 2019

Microsoft released Exchange Server 2019 in October 2018, which requires Windows Server 2019. The server now supports up to 48 processor cores and 256 GB of RAM. Moreover, the search functionality has been improved and given a makeover provided by the Bing. Dual storage with read and write capability using SSD technology can enable rapid data caching as a result, overall user experience will improve.

SSL Certificate Guide for Microsoft Exchange 2016

Microsoft announced the exchange 2016 service in 2015, with few changes compared to previous editions like office 365 hybrid, outlook on the web, DLP and archiving SHA-2 compliant, and additional language support. UCC is helpful to give a safe experience with encrypted communication. Refer CSR generation, and SSL installation guide stated as under.

SSL Certificate Guide for Microsoft Exchange 2013

Microsoft Exchange 2013 allows offline support in OWA, better indexing and searching experience with exchange managed store, data loss prevention, exchange administration centre. You can install an Exchange SSL certificate for several hostnames for this service. For that, go through the below guidelines.

SSL Certificate Guide for Microsoft Exchange 2010

Microsoft Exchange 2010 was publicly available in 2009, which brought novel features like client access server, ability to combine mailbox server with client access server, personal archive, and many other features. UCC SSL certificate is ideal for exchange 2010 for secured connection.

SSL Certificate Guide for Microsoft Exchange 2007

Microsoft Exchange 2007 server is an advanced version of exchange server that can split functions of exchange server to ease management functions and increase performance. You can install an Exchange SSL certificate with CSR generation by the below guideline.

SSL Certificate Guide for Microsoft Exchange 2003

Microsoft Exchange (MS Exchange) 2003 requires an SSL certificate for secured communication between two ends (server-server or client-server). MS exchange comes with new features like connection filtering, receipt filtering. It is helpful in large enterprises for distributed exchange server environments.
UCC Certificate: Protect Exchange server environment
UCC certificate: An ideal security for the exchange server environment, offers a single security shelter for all domains and subdomains
Comodo UCC/SAN/Multi-Domain SSL
Comodo Multi-Domain SSL is a prominent security certificate for online businesses, especially for large enterprises. Both versions like www and non-www domains will be covered in this certificate, giving more flexibility to run the website on your own decision. Almost all servers, including Exchange servers 2007, 2010, 2013, 2016 and 2019, are compatible with this Comodo UCC certificate.
Special Discount Price
$33.00
per year
Comodo Positive Multi-Domain Wildcard SSL
Comodo Positive Multi-Domain Wildcard SSL certificate is a vital certificate that protects different levels of wildcard domains (*domain.com, *.blog.domain.com) and their subdomains. All subdomains will enjoy strong encryption with 2048-bit root encryption to ensure that each byte of information is encoded to avoid data sniffing activities. In addition, almost all server types, including exchange server versions (2007 to 2019), are compatible with Comodo Positive Multi-Domain Wildcard SSL.
Special Discount Price
$122.40
per year