If your website's SSL certificate is expired, it issues a warning like "Your connection is not private" and "This connection is Untrusted".
The SSL certificate is a backbone of the website security and it should continue its functionality with the regular renewal process. SSL certificates are worldwide used for website security to encrypt transmitting online information.

If the website owner does not renew an SSL certificate at the regular interval, the browser warns of "Your connection is not private" and "This connection is Untrusted". With regular renewal, as a website owner, you can win and maintain customer trust, safe checkout, secured login information, and emails.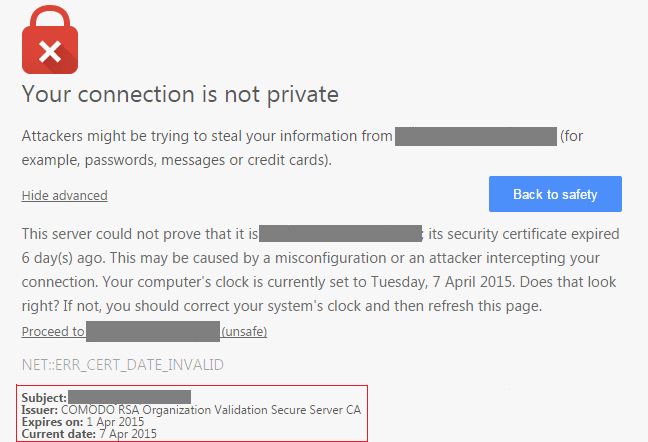 See Certificate Expiry Status in Browser
Following below steps, you can find the status of SSL certificate expiry in Mozilla Firefox and Google Chrome
If you are a newbie to SSL certificate, you can check the browser (Mozilla Firefox) by clicking on a padlock in the address bar place next to the HTTPS URL. A window will pop up indicating the SSL certification information, including the expiration date under "Security" tag.
In chrome browser, you have to click on a padlock in the address bar beside the HTTPS URL. A window will pop up telling certificate details under "connection" tab.
Effects of Expired Certificate
Customers will start to lose confidence or trust in your website if they face warning of an expired certificate. It is believed that 90% of customers avoid online transaction due to expired SSL certificate. It will be an advantage for your rivals and customers easily will move to their website and purchase stuffs. Besides, your website will not be able to attract new visitors.
Your clients will face a browser warning message whenever they try to access your website.
If your website completely runs on HTTPS, including image, video, or any media, then all these files will stop working and cannot be accessed.
Customers and clients would believe that you are not taking web security in a serious manner. As a result, the business ROI and web traffic will badly suffer.
How to avoid Expired Certificate Catastrophe?
Most of the business owners take SSL certificate for a single year and after the completion of the year, they need to renew the SSL certificate. Prevention is better than cure so keeping this proverb in mind, business owner or the IT department in the organization should stop certificate expiry. Follow below steps to avoid expiry of a certificate.
Keep an eye on an email as an SSL certificate provider sends a reminder email before the expiry of a certificate.
If the certificate is going to expire in near time, you should consult with the IT department or ISP to get the certificate renewed.
SSL2BUY offers bonus days if you renew a certificate at an early stage without losing the previous validity. You can get your certificate at discounted prices using our promotional offers.
SSL2BUY is a certified partner of trusted certificate authorities and provide services like relentless customer support, authenticated certificate, prominent services, etc.
SSL certificate expiry plays an essential role in providing trust to the customers. Many organization forget to renew their SSL certificate on regular time that can harm business reputation as well creates uncertainty in the buyer's mind. It is wise to renew an SSL certificate at regular interval instead of losing valuable customer base.