Cheap DV SSL Certificates
Buy/Renew Domain Validation (DV) SSL certificate from SSL2BUY at a cheap price and secure your website in a few minutes with a paperless process. Data Protection with modern encryption standards.
Filter by:
Sort by Price: Low To High
Popular
Price: Low To High
Price: High To Low
1 Domain
Quick Validation
256-bit Encryption
Fast SSL Issuance
DV Certificate – Fast Domain Validation at Lowest Prices.
A Domain Validation (DV) certificate is an entry-level certificate that offers fast issuance of a certificate. The certificate authority confirms the domain ownership of an applicant to issue a DV SSL certificate. No company identity details are verified. Therefore, there is no company information shown in the certificate details.
Being a low-cost certificate, a DV certificate is popular among forums, blogs, single-domain websites, and startups. The level of 256-bit encryption brings data integrity and security to save traveling information from prying eyes. CA performs domain validation using email validation, file-based authentication, or CNAME-based authentication. An SSL applicant should keep the domain registrar's information public for the verification of domain ownership.
SHA-2 Algorithm
Fast Issuance
No Paperwork Required
Free Secure Site Seal
Secure both www and non-www
Assured Warranty
Unlimited Server Licenses
Improve Search Engine Rankings
Free Unlimited Reissuance
Padlock in Address Bar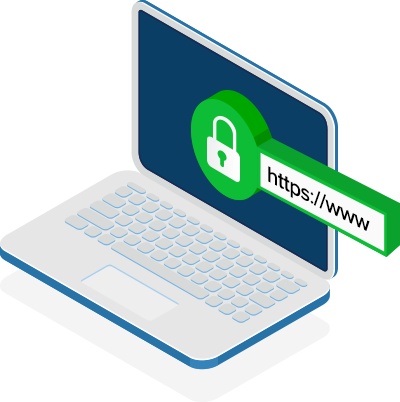 Benefits of DV Certificate
Save Money with Domain Validation – DV SSL Certificate and protect valuable online information with robust 256-bit encryption.
Immediate Issuance
DV certificate offers fast issuance without requiring any legal formalities. A site owner can enable HTTPS security immediately and give assurance to your site visitors.
www & NON-www
Domain validation certificates can work for www and non-www domains of a website. So, either a customer types with www or non-www, the website loads with SSL without any error.
Paperless Verification
DV certificate follows an automated domain validation process to prove your control over the domain. Therefore, you don't need to provide any documents to get your certificate.
Unlimited Server License
DV certificates can be installed on different servers without paying any extra charge. A site owner can easily reissue the current certificate and install it on the desired server.
Free Trust Seal
DV certificate comes with a free trust seal that can be placed on any website page where high assurance is required. Such a seal enhances the confidence of customers.
Money Back Guarantee
SSL2BUY offers a full money-back guarantee where a customer can claim a refund within 30 days of purchasing a certificate if a customer does not want to retain the product.
Unlimited Free Reissues
DV SSL certificates come with unlimited reissues. In case of an unlikely event, you can replace your certificate during the certificate lifespan without paying any additional cost.
DV Certificates – Secure a Site in Minutes
Bring a DV Standard SSL certificate at a budget price and make your digital platform secure with solid encryption and quick protection.