Cheap Multi-Domain SSL and SAN Certificates
Buy Multi-Domain SSL with flexible configuration to replace/remove/add domains on demand. Cheapest SAN SSL certificates are expandable up to 250 standard and wildcard domains.
Filter by:
Sort by Price: Low To High
Popular
Price: Low To High
Price: High To Low
2 Domains Inclusive
Add Up to 501 standard SANs
Add Up to 250 wildcard SANs
Add/Remove/Replace domains
Multi-Domain SAN SSL Certificates
Secure Multiple Websites in a Single Certificate
Multi-Domain SSL certificates can secure up to 250 domain names in a single certificate. Technically known as SAN Certificate (Subject Alternative Names) – these certs are flexible to secure multiple hostnames, domains, sub-domain, and wildcard domains in a single configuration. You can add, remove, or replace domains on demand. Please review each product's details to understand the certificates' flexible configuration.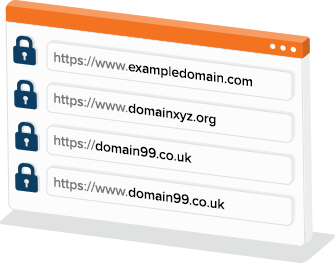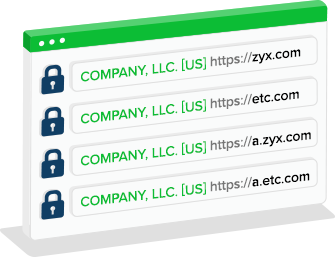 Multi-Domain SSL w/ EV
Enhance Trust and Security Across Multiple Websites
Bolster your customer's confidence by adding EV solutions to your multiple websites with a single Multi-Domain EV SSL certificate. The highest validation makes your website trustworthy; it gives wins customers trust over the website. Multi-Domain EV SSL certificate lets you secure multiple domains under the shelter of supreme validation and protection.
Multi Domain Wildcard SSL
Protect Multiple Sites & Its Unlimited Sub-Domains
Enhance the protection cover even for subdomains with a combination of SAN SSL and wildcard certificate, also known as Multi-Domain Wildcard SSL, allowing you to secure multiple domains and unlimited sub domains on a single server. This type of certificate is ideal for those businesses who want protection for their sites and all subdomains.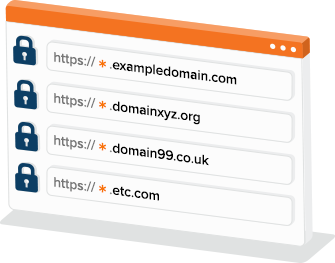 Leading Certificate Authority
SSL2BUY is an authorized reseller of Comodo, Sectigo, Thawte, DigiCert, RapidSSL, GeoTrust and GlobalSign certificate authorities and is committed to providing estimable SSL certificates at a cheap price along with a modern algorithm, strong authentication, and the best browser compatibility.
SSL2BUY understands emerging web security needs across the globe and always tries to give customer-driven security by connecting to the most renowned certificate authorities. As a result, you can get the advantage of the same quality certificate, discounted price, and unparalleled services.
Add up to 250 SAN Names
Multi-Domain SSL certificate follows the domain validation process and provides inexpensive security that allows you to add up to 250 subject alternative names during the certificate lifecycle on a single server.
You can add additional SANs whenever you wish to do so. However, SSL2BUY offers a low-cost SAN SSL certificate that includes four domain packs, so you need to pay additional for added server licenses.
To check added SAN domains in the certificate details. Just click on the Padlock icon in the address bar and click on "View Certificate". Then, click on "Details" in a new window and browse "Subject Alternate Name".
Protect Your Global Businesses
SAN SSL certificate is ideal for any online business managing multiple websites to reach the global market and seek a single security solution to provide a safe shopping experience.
Multi-Domain SSL certificate secures multiple sites with industry-standard encryption (SHA-256). It pleases your pocket by saving extra money that would have been spent on purchasing additional certificates and reducing administrator hassle from managing multiple certificates.
Benefits of Multi Domain SAN SSL
SHA-256 Strongest Encryption
SSL2BUY prefers customer security as a top priority; hence, all multi-domain SSL certificates bear the SHA-256 algorithm that is more vital in the SSL industry. The adoption of the latest algorithm is an ideal solution to fight against brute force attacks.
Boost Search Engine Ranking
Having a SAN SSL certificate on your sites will help you secure them and enhance visibility in search engines. In addition, Google has already nailed down HTTPS as a ranking signal; therefore, websites with SSL will have a higher ranking in Google Search ranking. Thus, your website will have a dual advantage of higher search ranking and robust security.
Simplified Management
Multi-Domain SSL certificate is best known for simple certificate management; hence it is one of the excellent benefits to go with such a certificate. SAN allows a single server and a single certificate that covers multiple domains set up; hence, the certificate manager would have no difficulty managing multiple domains.
Browser Compatibility
A multi Domain SSL certificate provides more than 99% mobile and desktop browser compatibility. As a result, you can promise your customers a smooth browsing experience. Therefore, there is no hassle of browser warning or browser to a server connection issue.
Unlimited Server License
SAN SSL certificate offers unlimited server licenses free of cost; therefore, you do not need to pay for the same certificate installation on any number of servers. Thus, it saves money and time to be spent on individual SSL installation.
Round-the-Clock Customer Support
SSL2BUY strives to bestow round-the-clock customer support. Our customer-driven policy allows us to be standalone in satisfying customers' queries. In addition, SSL2BUY reaches customers via live chat, and support tickets to sustain their interest in our legitimate SSL products.
Multi-Domain SSL: Cover all domains & subdomains
Multi-Domain SSL: A digital certificate that allows multiple domains and subdomains under single protection. Get it at the lowest price from SSL2BUY.
Multi-Domain SSL Certificate FAQs
If you have questions, we have answers. Just get through answers about usual questions related to multi-domain SSL under our FAQs section.
What is a Multi-Domain (SAN) SSL Certificate?
Multi-Domain SSL Certificate is a single certificate to secure multiple domains (FQDN) that can be installed on different servers. It is a money and time-saving certificate also known as SAN (Subject Alternative Names) SSL certificate. Multi-domain allows you to secure up to 250 domains and subdomains during the certificate life cycle.
What is the Subject Alternative Name field?
The Subject Alternative Name field allows you to add additional common names secured with a Multi-Domain SSL certificate.
How do I secure multiple domains using a single SSL certificate?
Multiple websites can be secured with a single Multi-Domain (SAN) SSL Certificate. When you purchase multi-domain SSL, you will have a SAN extension that lets you add the domain names protected by this certificate.
Why do I need SAN?
SAN SSL certificate reduces the need to manage individual certificates and allows you to secure multiple websites with a single certificate. The certificate enables the SAN option where you can place domain names that you need to secure. Managing multiple certificates can be a hectic task as certificate installation, renewal, expiry, and re-issuance are significant parts that need to be managed. SAN certificate gets you rid of multiple certificate hurdles and offers easy and single certificate management.
Where Can You See Subject Alternative Names in Action?
You can click on https padlock in the address bar where you have to browse Details > View certificate > Details > Subject Alternative Name, where you will find SAN names.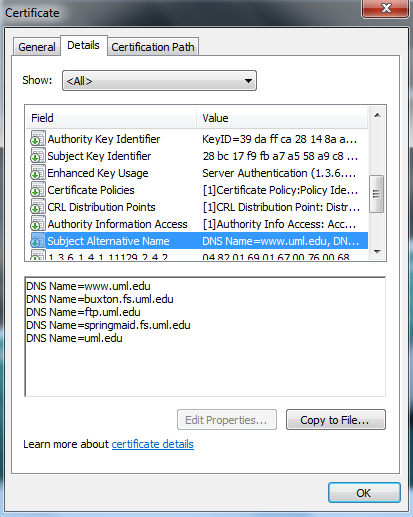 How do I add SAN?
You have to select several SAN fields and add specific domain names during the enrollment of the following certificates:
Which SSL Clients support Subject Alternative Names?
SAN certificate carries more than 99% browser compatibility; it supports mobile, PDAs, desktop browsers, OS, and servers like Firefox, Internet Explorer, Opera, Safari, Microsoft Edge, Netscape, Windows OS, Windows Mobile OS, Symbian OS.
What is the difference between a SAN certificate and a Wildcard certificate?
The SAN (Subject Alternative Names) certificate lets you secure multiple top-level domain names and subdomains with a single certificate. You can take a certificate for the primary domain; let's say mydomain.com is a primary domain, and you can secure:
mydomain.org
mydomain.net
mail.mydomain.com
payment.mydomain.com
edu.info.mydomain.com
On the other hand, wildcard SSL allows you to secure unlimited subdomains under a unique top-level domain name. If you take one wildcard SSL certificate for *.mydomain.com, then you can secure,
www.mydomain.com
news.mydomain.com
blog.mydomain.com
payment.mydomain.com
anysub.mydomain.com
A single asterisk (*) protects unlimited subdomains under a single fully qualified domain name.
Can I get a SAN certificate for internal names and reserved IP addresses?