Cheap Wildcard SSL Certificates
Buy a wildcard SSL certificate for $26.00 lowest price. A wildcard SSL certificate will secure a domain and all sub-domain for a single certificate cost - very easy to validate, install and manage. Switch wildcard SSL renewals to us & save 70% now.
Filter by:
Sort by Price: Low To High
Popular
Price: Low To High
Price: High To Low
1 Domain & Subdomains
Easy Validation
Cheap Wildcard SSL
FastSSL Issuance
Cheap Wildcard SSL for Unlimited Subdomains and Servers
Wildcard SSL Certificate saves time and money from managing separate SSL certificates for each sub-domain; our cheap Wildcard SSL certificates can secure your fully qualified domain name and sub-domains. When ordering a Cheap SSL Wildcard certificate, you should add an asterisk (*) before the common name. It is enabled with unlimited server licenses so that you can share the same wildcard SSL certificate on multiple servers.
How does Wildcard SSL Certificate Work?
The example shows that if you request Wildcard SSL for *.yoursite.com, you can secure unlimited sub-domains under single protection; Like: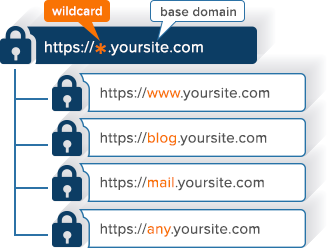 Benefits of Wildcard SSL certificates
Centralized Administration
You must manage multiple SSL certificates by purchasing a separate SSL for every sub-domain. All certs may expire on different dates, and you can't track them with ease. When you buy a single wildcard SSL, it will cover all sub-domains under one roof. Just keep track of one SSL certificate and eliminate multiple SSL management.
Reduce Management Cost
The SSL installation process life cycle involves multiple steps like purchasing, SSL configuration, authentication, and installation. Account teams take care of purchases, and spend more time on multiple purchases. The technical team takes care of SSL configuration and installation. An expert network administrator may need a minimum of 20 minutes for a single SSL step. For, say, installing separate SSL on ten sub-domains, he will have to spend around 200 minutes. On the other hand, installing a wildcard SSL certificate will require just 20 minutes, and SSL will secure all ten sub-domains.
Cost Saving
Separate SSL will cost you at least $10, so, you will be paying $100 to secure ten sub-domains when you purchase a separate certificate. As a wildcard SSL certificate is available at the cheapest price – just $26.00, you can save around 78%. In addition, you can configure the same wildcard SSL on multiple hosting servers at NO extra cost. Moreover, you can also add unlimited sub-domains to secure under a single wildcard SSL certificate.
Ease SSL Renewal
All SSL certificates will expire someday, and you will require renewing them again to keep using them. The SSL renewal process is identical to a new purchase where you must follow the same steps again. Separate SSL renewal will take more time to install and cost more money. At the same time, renewing a single wildcard SSL with less price, time and management will keep all sub-domains secure.
Wildcard SSL Certificate: A Single Security for Subdomains
Wildcard SSL Certificate helps reduce SSL certificate management costs and offers users a smooth browsing experience by averting insecure warnings.
Wildcard SSL Certificate FAQs
Still have questions in mind about the wildcard SSL certificates and subdomains. Here are FAQs to reveal answers to common questions related to wildcard cert functionality.
What is a wildcard SSL certificate?
Wildcard SSL is a cost saving digital certificate that can secure the main domain and its same level of subdomains. Wildcard adds an asterisk (*) before the main domain, whereas regular SSL is assigned to a specific domain name.
How much does a wildcard SSL certificate cost?
Wildcard SSL certificate
starts at $26.00/yr. and you can buy different brands of wildcard certificates at the lowest prices from us.
How do wildcard SSL certificates work?
When an SSL applicant wishes to go with a wildcard certificate, he intends to secure the main domain like *.domain.com and its same level subdomains as sub1.domain.com, sub2.domain.com, etc. Thus, a wildcard SSL can secure as many subdomains as possible with a primary domain.
What are the advantages of a wildcard SSL certificate?
Wildcard certificates comes with many advantages that make them stand alone from other certificates. A Few benefits are:
Easy certificate management
Lowest price
Unlimited subdomains security
Multiple server flexibility
Why would you deploy a wildcard certificate?
A wildcard certificate is a great choice if you have multiple subdomains and wish to find a single solution, A single asterisk with a dot can secure unlimited subdomains, and you do not need to purchase a separate SSL certificate for an individual subdomain. For example, *.mydomain.com can secure the first level of subdomains like sub1.mydomain.com, sub2.mydomain.com, and sub3.mydomain.com.
Can a wildcard SSL certificate secure a second-level sub-domain?
To secure a second-level subdomain, you must go with a multi-domain wildcard to secure multiple wildcard domains under a single certificate. You can also add an asterisk before the second-level subdomain and secure it along with its subdomains.
What if I want to switch my server in the future?
You can install a wildcard certificate on multiple servers. You can reissue the current certificate and install it on the desired server.
What does a wildcard SSL cover?
This certificate covers all the same-level subdomains of a primary domain.
How do I know if my SSL certificate is a wildcard?
You can check your certificate by entering the domain name on the
SSL checker
. Otherwise, you can check different browsers by clicking on a padlock >> Certificate option.
Who is the cheapest wildcard SSL provider?
We at SSL2BUY have authorized resellers of many brands (like AlphaSSL, GlobalSign, RapidSSL, Comodo, GeoTrust, Thawte, Sectigo and DigiCert) and always try to bring down the surplus margin on each SSL product by offering a significant discount.
If you look around, you will hardly find such competitive prices except for SSL2BUY. SSL2BUY stands alone as the cheapest wildcard SSL certificate provider in the SSL industry compared to other providers.
How do I get a wildcard SSL certificate?
You can get the cheapest wildcard cert from SSL2BUY. The price for wildcard cert starts at $26.00/yr. and you can get different brands' wildcard certificates quickly on a single platform.
Where can I buy wildcard SSL certificates?
SSL2BUY is the best place to buy wildcard certificates at a cheap price. The reasons to purchase from us are different brands, unique product features, lowest price in the market that brings a smile to every SSL seeker.
How can I generate CSR for my wildcard domain? What domain name should I use to generate the CSR?
From the server you wish to install a wildcard SSL certificate, you need CSR (certificate signing request) to be created from that server. It would help if you created a CSR key for the common name *.yourexampledomain.com. If your domain name is www.example.com, create a CSR key for *.example.com. An asterisk (*) is required in the domain name, and the key size must be 2048-bits.
Why does SSL2BUY offer cheap wildcard SSL certificates?
We're authorized resellers of different leading SSL CAs and tie-up with high volume contracts. Selling out the massive volume of certificates to end customers daily makes our base cost low. We keep a small profit on all SSL products to offer our customers the best possible cheapest price. We regularly announce discount offers on all types of wildcard certificates we sell.
Our cheap wildcard SSL certificate does not negotiate or compromise SSL security. All wildcard certificates you purchase from us are 100% the same as on the CA website. If You purchase from us, other competitors or direct CA, and your certificate will be issued only by Certificate Authority.
What are the benefits of purchasing wildcard certificates for multiple years?
You will get a heavy discount on multiple-year purchases compared to a single-year price.
SSL certificate requires configuration and set up every time, whether – renewal or new purchase. And the process will require additional efforts. So if you're sure about long-term usage, buy it for maximum years and get rid of every year renewals and installation process and avail the cheapest price in the market.
Can I use the same wildcard certificate for different IP addresses and physical servers?
Yes, you can apply the same certificate on multiple servers and IP addresses if they belong to the same level subdomains of the main domain for which you requested a wildcard certificate. You may export SSL from one server and import it to other servers.
What domain names can I secure in the wildcard certificate?
Wildcard certificates are designed to secure unlimited sub-domains with no limit. Please note that this certificate is not a multi-domain SSL; it can only secure all the same-level sub-domains for the root domain. Therefore, you cannot secure multiple domains with a wildcard certificate.
What domain or common name should I use for the wildcard CSR key?
It would help if you created a CSR key for the common name *.yourexampledomain.com. If your domain name is www.example.com, create a CSR key for *.example.com. An asterisk (*) is required in the domain name, and the key size must be 2048-bits.
If I change hosting provider or server, do I lose my Wildcard certificate?
No, you will never lose your certificate. We offer SSL reissue and rekey at free cost for an unlimited time. Login to your account > start support ticket > send us a new server CSR key. We will reissue SSL and send the new certificate.
Does Wildcard SSL work for exchange servers?
Microsoft and technology specialists recommend using UCC certificates for Exchange servers. But wildcard certificates will work for some versions of exchange servers.
What types of wildcard certificates can I purchase?
You can purchase single and multi-domain wildcard certificates as per your business requirements.