S/MIME is an acronym for Secure/Multipurpose Internet Mail Extension. S/MIME certificates are usually referred to as email signing certificates or personal authentication certificates.
The nitty-gritty of the S/MIME certificate will help you fortify your crucial security issues in the mail and further your business aspirations. Read on to know-how.
Business and formal communications have gone from phone calls to emails over the last couple of decades. Since emails are the most preferred communication mechanism. The data provided by Statista shows that 4.03 billion people already use email in 2021, and it is projected to rise to 4.48 billion by 2024.

With millions of emails travelling back and forth between devices each day, the need for securing these communications is imperative. This criticality gets highly amplified in a commercial business because of the volume and nature of sensitive data. Let's assume you are someone who handles sensitive data in the form of:
Intellectual property
Personal employee data
Customer details and contact info
Credit and debit card details
If this is the case, it is high time you thought about securing your mails and protecting the confidential data. Apart from people infiltrating your mails, you need to prevent the data from being compromised by cybercriminals. These people are notoriously deft at using your mail and creating phishing scams to trick people into releasing data. The FBI reports suggest a loss of USD 26 billion from FY 2016 to FY 2019 due to email account compromise/business email compromise involving such fraudsters.
This article aims to help you secure your business communications and sensitive data by securing your mail using a S/MIME certificate.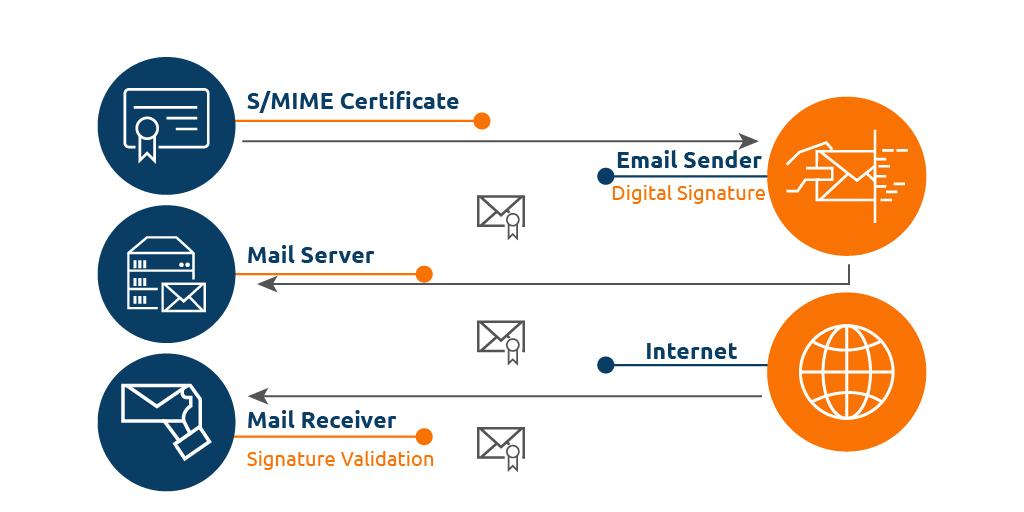 What Is a S/MIME Certificate?
S/MIME is an acronym for Secure/Multipurpose Internet Mail Extension. S/MIME certificates are usually referred to as email signing certificates or personal authentication certificates. Essentially, this email security protocol has a two-pronged action.
To help the email recipient confirm the sender's identity.
To prevent unwanted parties from reading, tampering, intercepting, or compromising with the contents of the mail, whether at rest or in transit.
S/MIME certificates have been around for quite some time and have successfully addressed security issues and vulnerabilities. In addition, S/MIME certificates have evolved and become fool proof over the years to address security issues like EFAIL (a security vulnerability that affects end-to-end encryption solutions).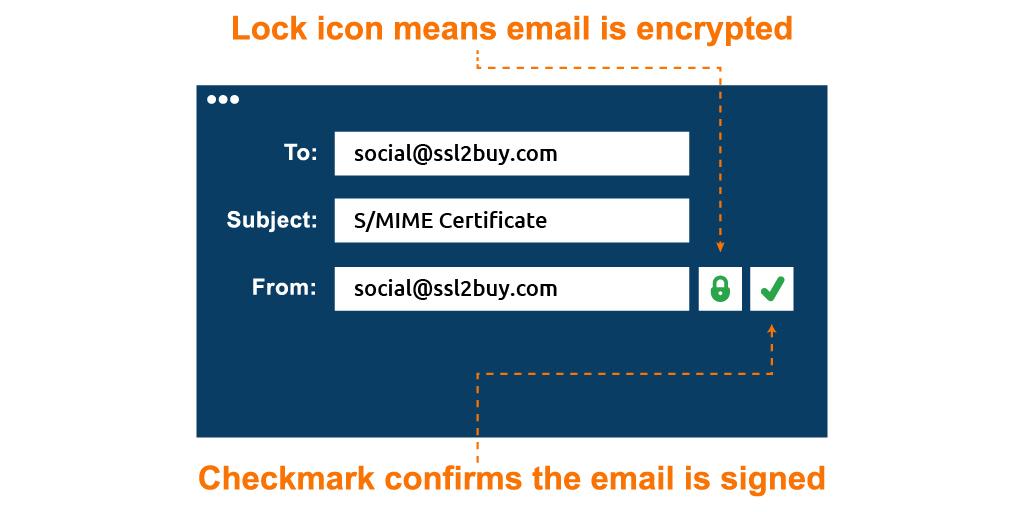 How does S/MIME address security vulnerabilities in email?
From the above discussions, it is clear that a S/MIME certificate is an end-to-end encryption solution for MIME data, a.k.a. email messages. The use of asymmetric cryptography by the S/MIME certificates prevents compromising the message's integrity to a third party. In plain language, you hash the message by applying a digital signature. Then you encrypt the mail to ensure the confidentiality of the message.
According to GlobalSign- a company that provides specialized Public Key Infrastructure (PKI) solutions to enterprises, S/MIME uses public encryption to secure messages that can only be decrypted with the corresponding private key possessed by the designated mail recipient.
We can visualize the situation by stepping back in time. The use of wax seals on letters was unique identification proof of the sender while helping the recipient comprehend if the letters were tampered with. The S/MIME certificates operate on a similar concept.
There is a private key for the sender to digitally sign the mail he is sending. A public key then accompanies the email in transit. The recipient will use it to authenticate the sender's digital signature and his own private key to decrypt the mail. This system of leveraging two different yet mathematically similar cryptography keys gives end-to-end encryption using 'asymmetric cryptography.' Without both the keys, the entirely encrypted contents of the email will be nearly impossible to crack.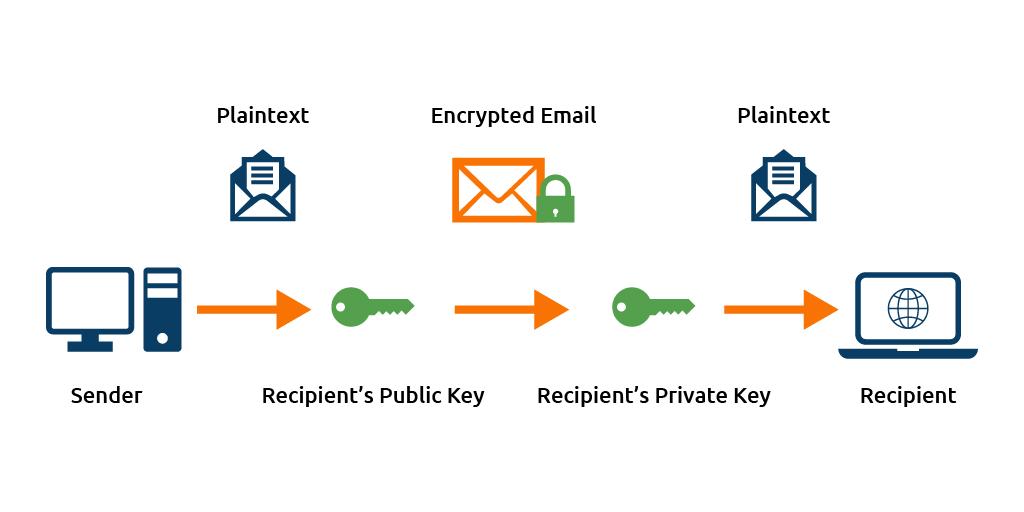 S/MIME involves one of the three main types of encryption quintessential for emails.
Transport Layer Security (TLS)
Secure/Multipurpose Internet Mail Extension
Pretty Good Privacy (PGP)
Key features of S/MIME certificate
When using a S/MIME certificate for email applications, you get a host of cryptographic security features.
Authentication
It means verification of the identity of a computer user or a website.
Message integrity
This is the assurance that all the contents and data present in the message are not tampered with. The confidentiality of the message is critical. The decryption process involves verifying the original contents of the message and ensuring that it has not changed.
Use of digital signatures invoking non-repudiation of origin
This refers to a situation where the digital signatures validate the original sender and his identity so that there is no dispute about the same.
Data privacy
No unintended third party can cause a data breach.
Data security with the use of encryption
It refers to the processes discussed above where a combination of public and private keys representing asymmetric cryptography ensures data security.
A S/MIME certificate designates the MIME type. The MIME type refers to the enveloped data. The entire MIME entity is prepared, encrypted, and packed into a digital envelope.
S/MIME Support
Here are some of the most used email clients that support S/MIME.
Apple Mail
iPhone iOS Mail
IBM Notes
Gmail
Microsoft Outlook or Outlook on the Web
Mozilla Thunderbird
MailMate
CipherMail
Although a S/MIME certificate has existed for a long time and is supported by most email clients, the cons of its usage involved cumbersome implementation due to the sender and recipient's public and private keys. As a result, its use was limited to highly confidential government communication and those initiated by tech geeks.
However, with the rise of automation tools for implementing and managing S/MIME certificates, its adoption trend has improved. The awareness that S/MIME certificates help your business by protecting in-transit and at-rest data has outweighed the cons.
S/MIME Validation Levels
S/MIME certificates have three validation levels. In addition, every Certificate Authority (CA) has its unique classification. Here is a simple list that clearly explains the validation levels and provides enough information to select the best S/MIME certificate that caters to your needs.
Basic Level
A basic level validation requires a domain validation where a verification link is sent to prove domain ownership. Once the certificate is installed, it will show verified email address along with digital signature on the certificate. It also assures users that the email is from legitimate sender.
Pro Level
In a pro level validation, it requires identity verification and domain validation process. The identity verification process verifies you as an employee. It requires government issued any proof like driver's license and company email address. After verification, the authority issues email signing certificate and your name will be shown on email address.
Enterprise Level
In Enterprise level, the certificate authority checks domain validation, identity validation and organization validation. The authority performs organization authentication, verifies locality, tele verification, and a verification call. Once all details are confirmed, the authority issues a certificate with a digital signature, which includes verified email@address.com, first name, last name, company address and its name.
How does a S/MIME benefit your business?
In today's digital world, running businesses requires communications to be strong and the platforms to be resilient. Since the reach of the emails is undoubted, protecting them with the help of a S/MIME certificate will have several positive implications for your business.
Business Reputation
S/MIME certificate protects business reputation by ensuring that the email does not contain any virus and received from official email address. With this certificate, there are no chance of email tampering and establishes a trust between a business and users.
Minimizing business risk
Having a S/MIME certificate ensures an additional security layer of sender identity verifications to combat email phishing techniques. According to ProofPoint research, 83% of surveyed global info security professionals claimed to be susceptible to phishing attacks in 2018. Message integrity is a crucial feature of email encryption techniques, and it helps in nullifying hackers who would want to intercept and tamper with your critical communications.
Avoiding compliance risks and associated fines
Businesses that store and use the personal information of consumers need to adhere to specific rules and regulations. Failure to comply with them would incur substantial fines. Using a S/MIME certificate would negate such possibilities.
Preventing identity thievery
Man-in-the-middle (MitM) hijacking is often about gathering confidential information like usernames and passwords and using your identity to create serious troubles later. Using an encrypted digital signature will reduce identity thefts.
Even if these hackers break the encryption, the entire content needs to be checked and matched for successful decryption, and the slightest change will trigger a warning message. Therefore, the S/MIME certificates will help your business conduct communication effectively without worry.
How can you send encrypted emails?
Some organizations and individuals make use of secure email service providers to send secure emails. These service providers, like ProtonMail, might help you send and receive private messages for free, but the downside lies in the fact that both sender and receiver need to have the same account. This is a general drawback for end-to-end encryption service providers.
Apart from this challenge limiting the utility of email platforms for business, there exists a far graver one. Even to this day, these so-called secure email service providers are susceptible to cyber-attacks. VFEMail is a prime example of a secure email service provider that succumbed to a cyber-attack after 20 years of operation.
The most effective way is to leverage a S/MIME certificate to sign and send encrypted emails digitally. The Internet Engineering Task Force (IETF) considers this mechanism as secure public-key encryption, and it is also recommended as a "protocol for email end-to-end authentication and confidentiality" by the National Institute of Standards and Technology (NIST).
How to implement S/MIME?
Although S/MIME deployment may seem like an uphill task, we will help you configure S/MIME for Outlook 2010 or later.
Import S/MIME certificate
Open File>>Options in Outlook 2010/2013
Now, click on Trust Center > Trust Center Settings under Outlook Options.
After that, click on "Trust Center Settings" button and click on "Email Security" tab on the left side.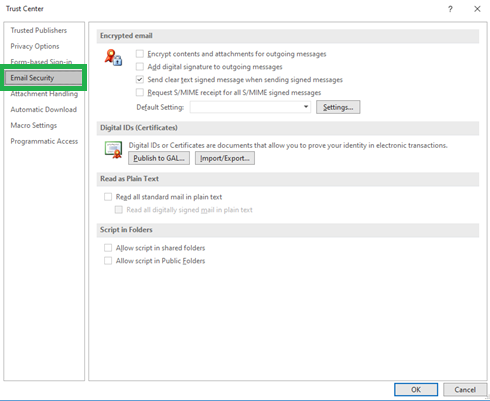 You will have Import/Export button under Digital IDs (certificates) label in the middle of the screen. Click on it.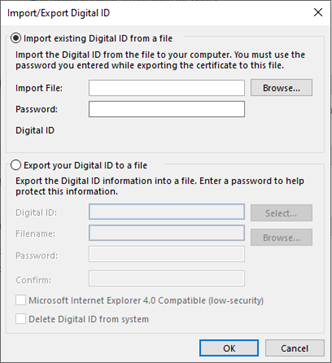 In the Import/Export Digital ID interface, Browse PKCS12 certificate file and click OK. Keep digital ID name and use password used during export of certificate.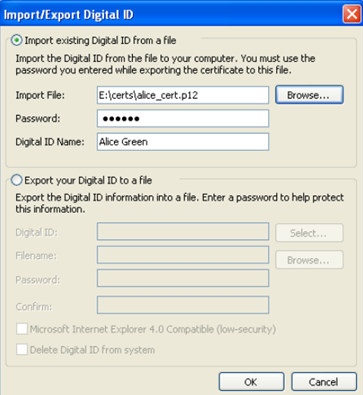 Now, select security level for storing private key and click OK.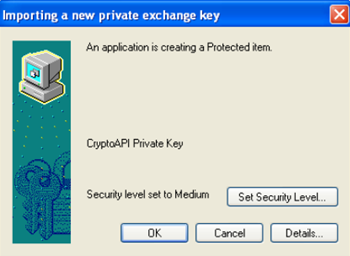 Assign the Certificate
Open Outlook 2010/2013 and access File>>Options
Click on "Trust Center Settings" button and select "Email Security" tab on the left side.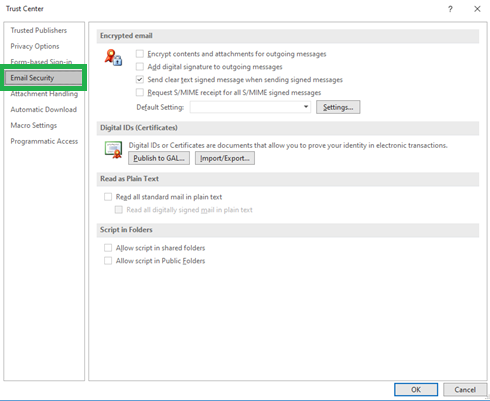 Click on "Settings" under "Email Security" option as showing in above image.
You will have a "change security settings" where you can choose signing and encryption certificate.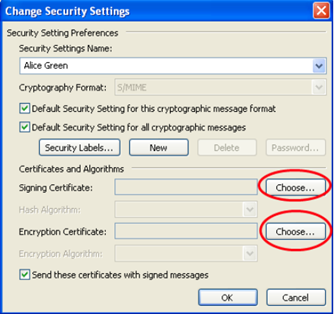 First click on choose button against signing certificate, there you can choose signing certificate from imported certificate and Click OK.
Again, click on choose button against Encryption certificate, there you can choose encryption certificate from imported certificate and click OK.
After choosing both certificates click OK button and return to the Trust Center screen.
Signing and Encrypting Individual Emails
First compose mail in outlook and click on Options in menu bar and click on "Encrypt" and "Sign" button as per your requirements.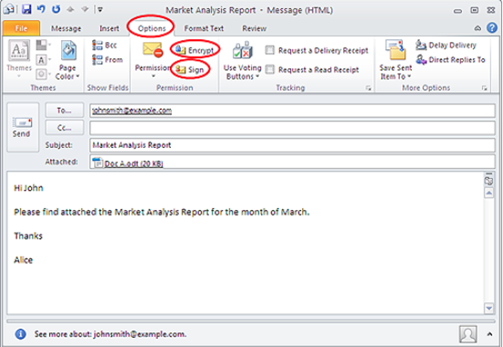 When you send email, it will be encrypted and signed as per your selected option.
Signing and Encrypting All Mails by Default
Open Outlook 2010/2013 and browse File>> Options.
On the left side, click on 'Trust Center' and then click on 'Trust Center Settings' on the right side.
Choose 'Email Security' on the left side and select below two boxes named as:
Encrypt contents and attachments for outgoing messages box (To encrypt each message)
Add digital signature to outgoing messages box (To sign each message)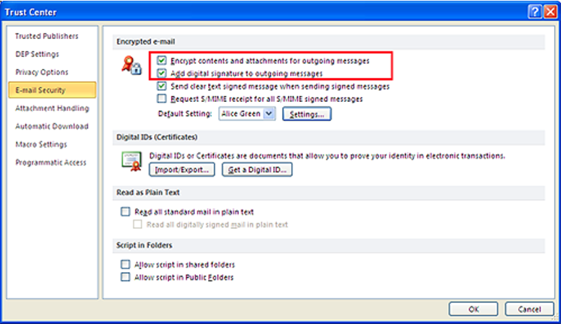 Closing thoughts
Implementing a S/MIME certificate across your organization's email platform will ensure relieving the pain points of email security and data confidentiality. Apart from the assurance that your organization identity is verified, you can conduct business in a free spirit knowing your messages are encrypted and the integrity of your attachments is also secure.
Related Articles