Security and privacy of a website and all your online transactions are the utmost crucial factor for all the clients and end-users across the world. If this era is super informative and high-tech then it can be super vulnerable for security and privacy of your personal data, credit card numbers, PIN digits and etc. So what to be done? Owing to it the search engine giant – Google has come up with an update of flagging the websites starting with "HTTP" mark as "not secure".
From January 2017, Google on its Chrome 56 and other major web browsers have started flagging all the non-secure websites (i.e. HTTP) which accept critical information like passwords or payments details and sent a security alert. Eventually, with this notion, all the non-secure websites (with HTTP) will show a security warning in the address bar.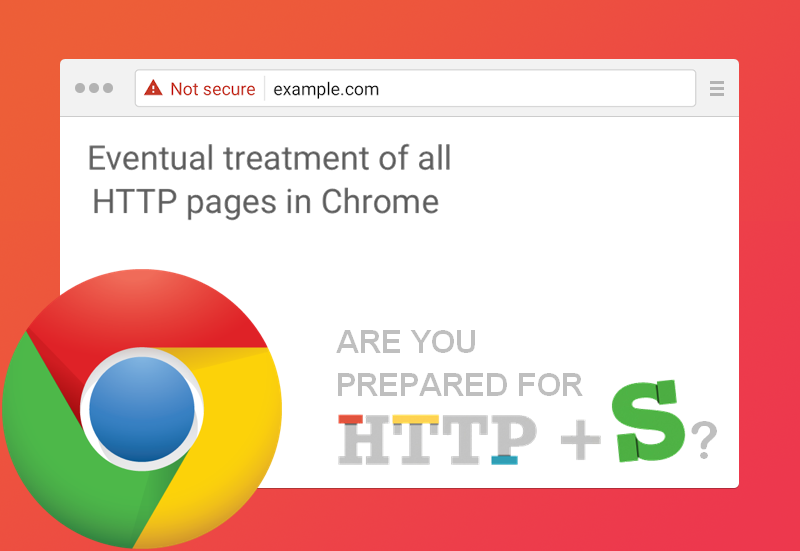 Historically, till now chrome and other browsers have not overtly marked HTTP as a non-secure version but with this year (2017) beginning Chrome 56 started to mark all the pages, sites with HTTP as non-secure, especially, the ones that contain forms like login, register, order process or lead generation where users submit their personal details. Let's, see what some studies have to say about it –
Some studies done by the technical team of Google – the giant indicates that users of chrome 56 and other browsers were not taking seriously the "secure" and "non-secure" icons on their websites and pages; moreover, they became blind over the warnings flashing frequently on their browser. So, to break this, stringent steps have been taken starting January 2017 in order to have fair and safe transactions over the web. This will certainly help all the sensitive information to be secure in all mannerisms'.
This entire article will throw some light on the clear understanding of the solutions and practices to do in order to make your website "secure" from "not secure" tag. Keep reading –
Why move to HTTPS?  
In order to make the process simple and easy to understand Google is helping businesses and marketers to understand the risks involved, also, checking on that they aren't affected negatively by this update.
What is HTTPS? HTTPS isn't like any other ranking factors, in actual fact, it is the about implementing the secure methods that require complexity, risks, and costs. The Google Webmasters balances this out with amazing benefits of HTTPS that consist of amplified security, better referral data, and a little boost in rankings.
Technically speaking HTTPS (or Hyper Text Transfer Protocol Secure) is the right answer to the data protection issue which is used on the sites like e-commerce, banking, and others. This HTTPS feature secures the data by encrypting it before sending it by the medium of SSL (Secure Sockets Layer) Certificate.
Eventually, assessing the situation and the impact on the traffic of your website and other critical information will help you to choose a better solution for securing your site and web pages via HTTPS.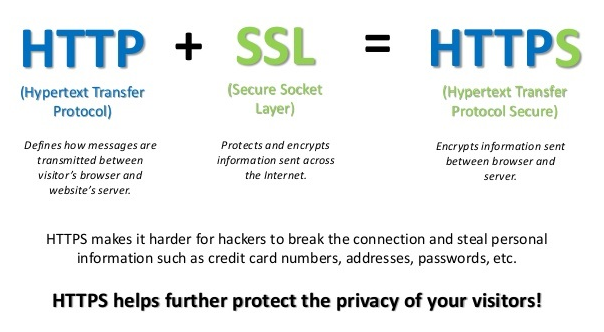 Trust is very important when you shift to HTTPS – the "S" in HTTPS stands for secure, that transmits data security through an encrypted connection. These websites use certificates that are cryptographically signed by a Certificate Authority (CA). Hence, you know that you are in safe hands.
So, what's the solution?
Act now, buy SSL certificate – it stands for "Secure Socket Layers" which is the official term for online encryption technology. An SSL certificate includes both private and public encryption keys that are alphanumeric characters with long strings used to encrypt the data in a way that's real hard to crack or hack, making it ideal for securing your sensitive data.
With an accurate installation of SSL/TSL certificate, the 'non-secure' warning flashed on your web page will turn into a green padlock icon. Hurray! Yes, it is this simple.
The process of implementing HTTPS
Once you get the certificate authority such as SSL/TSL certificate for your secure version of the website then it calls for installation of the SSL certificate on your websites' hosting account.
Also, ensure that any website links that are changed from HTTP to https are not broken or hampered post flipping or switching.
Make sure to set up 301 redirects from HTTP to HTTPS so that search engines are reported that your website's addresses have been now shifted. With this, any user who has already bookmarked a page from your website will automatically be redirected to the secure version that is https address.
On the other hand, the HTTPS site will act as a new website and therefore needs to be remapped accurately.
Updating robot.txt file needs to be done and for SEO – search engine console and sitemaps integration should be executed.
Updating Google analytics and resubmitting the disavow file should also be implemented
How does HTTPS secure your website?
HTTPS is referred to as a secure protocol, and it certainly protects the website from major cyber attacks. See below some of the vulnerable situations that your website may face and can be prevented by secure https login.
SSL/TLS vulnerabilities
Downgrade attacks
Benefits of HTTPS
Well, the benefits of SSL are many as the data that is sent using HTTPS is secured via TLS – Transport Layer Security protocol which offers three-layer protections to the businesses online, that are – Encryption, Data integrity, and Authentication.
From the SEO perspective https will give you a good ranking boost and more referrer data. So no more dragged traffic because of HTTP, the organic traffic will be rightly pulled to your website with secured features. Moreover, HTTPS verifies the website to be safe for the server and for the users. It encrypts all the communication on the website, including the URLs that are for protection such as bookmarks, browsing history and the credit card numbers and details.
To summarize, it is stringently advised to switch to https – secure version, if you are into online business or use online transactions for your day to day life. Trust and security will give authority power to your online business as well help to gain rankings in search engines and boost in ROI. Be Secure!
Related Content: