Online gaming is one of the most popular activities among users worldwide. Especially multiplayer games are competitive. Therefore, players often use cheat codes to abuse games. However, Epic Games created a program called EasyAntiCheat.exe, which would stop any abuse from the players.
Epic Games EasyAntiCheat is an anti-cheating software tool that can be used in live multi-player games hosted by Epic Games. It checks for and reports potential cheats or exploits being used in the game, helping to maintain a fair playing environment.
However, you need a Code Signing certificate to ensure the EasyAntiCheat.exe program can be trusted and does not abuse any game features or allow anyone to cheat in multiplayer games.
A Code Signing certificate is a security mechanism used to verify the identity of a digital certificate holder. The Code Signing credential authenticates the individual who holds the digital certificate and binds their signature to that document.
There can be several reasons why the Code Signing validation process for EasyAntiCheat might fail. The most common issue is that the certificates must be from a proper certificate authority.  If you experience this error and cannot fix it, here is a detailed guide.
What is Error Validating EasyAntiCheat Code Signing Certificate?
Error Validating EasyAntiCheat Code Signing Certificate is a Windows error message that can occur when you try to use a Code Signing certificate with EasyAntiCheat. Epic Games uses a variety of third-party vendors to help us validate codes, and some of those providers require that a recognized authority sign certificates.
If your Code Signing certificate is not from one of those recognized authorities, the validation process will fail, and an Error Validating EasyAntiCheat Code Signing Certificate message will be displayed. There are various ways to address this problem. You can contact the certificate issuer, or try to re-issue your Code Signing certificate with a different authority.
Why do you see this error?
There are a few possible reasons why Error Validating EasyAntiCheat Code Signing Certificate might be displayed. The most common cause is that your Code Signing certificate is from someone other than the recognized authorities. If you experience this problem, you will need to get a new Code Signing certificate from a recognized authority.
You can get a Code Signing certificate by following the below process,
Generate a certificate signing request(CSR)
Submit the CSR with all the organization or personal details to a certificate authority(CA)
CA will verify the credentials and issue a code-signing certificate
Download and install the Code Signing certificate.
Another potential cause of an Error Validating the EasyAntiCheat Code Signing Certificate is that your computer may not have the software installed to use the Code Signing certificates with EasyAntiCheat. If you encounter this error message and do not have the essential software installed, you will need to install the required software before you can use EasyAntiCheat.
Finally, Error Validating EasyAntiCheat Code Signing Certificate might be caused by a problem with your Code Signing certificate. If you are not sure what could be causing this message, then it is likely that you will need to contact one of the recognized authorities that signed your Code Signing certificate to get help resolving the issue.
Other reasons can include
Corrupted memory- Here, In-game memory is corrupted and caused the error.
Unknown file versions- The game loads with specific unknown files that block the content of game files.
Debugger issues- EasyAntiCheat program requires that the game is not debugged. Therefore, if there is a debugger, it will block the execution of EasyAntiChat.
Kernel debugging- If kernel debugging is enabled, EasyAntiChat cannot be executed.
Windows Safe Mode- If you are using Windows Sage Mode, EasyAntiChat will not work.
Top Ways to fix "Error Validating EasyAntiCheat Code Signing Certificate"
As there are several different reasons for "Error Validating EasyAntiCheat Code Signing Certificate," you need multiple solutions. For example, one of the simplest ways is to use standard Windows mode, ensuring EasyAntiChat.exe is executed. Let us discuss some solutions you can use to fix this error.
Update your Windows
One of the most significant issues due to which you may face "Error Validating EasyAntiCheat Code Signing Certificate" is an outdated Windows version. Outdated versions have security issues that block the execution of the EasyAntiCheat program. For example, if you want to use the EasyAntiChat program on Windows 7, you need to update the SHA-2 support.
So, to update Windows, follow these steps,
Click on the Start button and type "update."
When the search results appear, right-click on the Update icon and select "Install updates".
After the installation is complete, restart your computer.
Once you have logged in again, check for updates by going to Settings > Update & Security > Check for updates.
Install the Code Signing certificate manually.
For manual installation, you must first download the .cer file from an email or physical device given by CA. Especially if you have an EV Code Signing certificate; files are sent through a secure physical device.
Step 1- First, click on the certificate file, and you will see a new wizard open.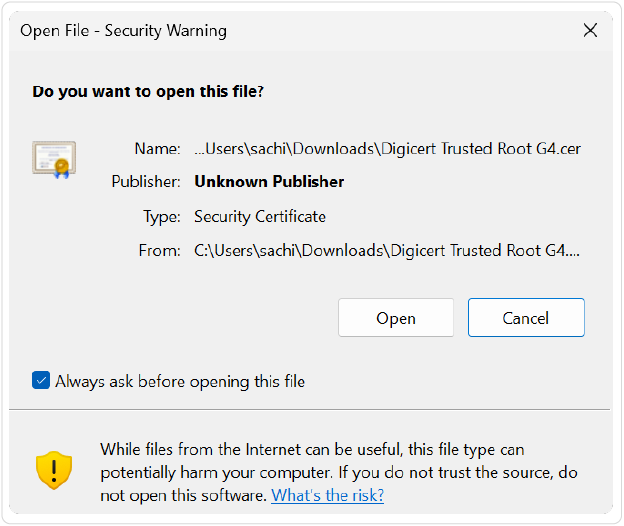 Step 2-Click on "Open," and another wizard will open with all the details of a certificate and an option to install the certificate.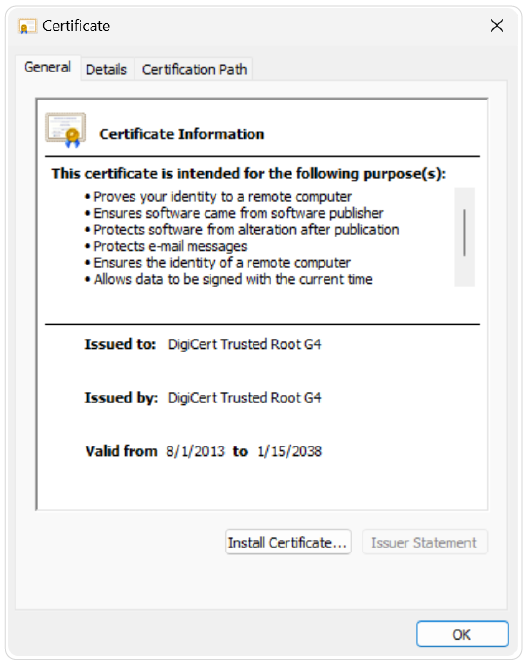 Step 3- Click on Install Certificate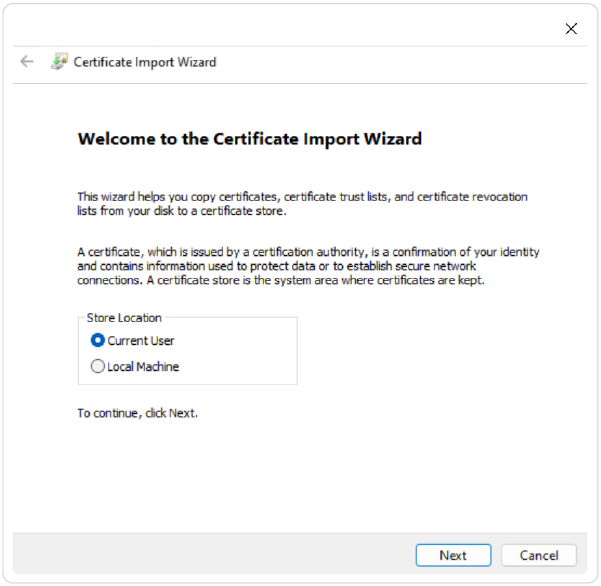 Step 4- Now select the local machine option if the certificate file is stored on your computer.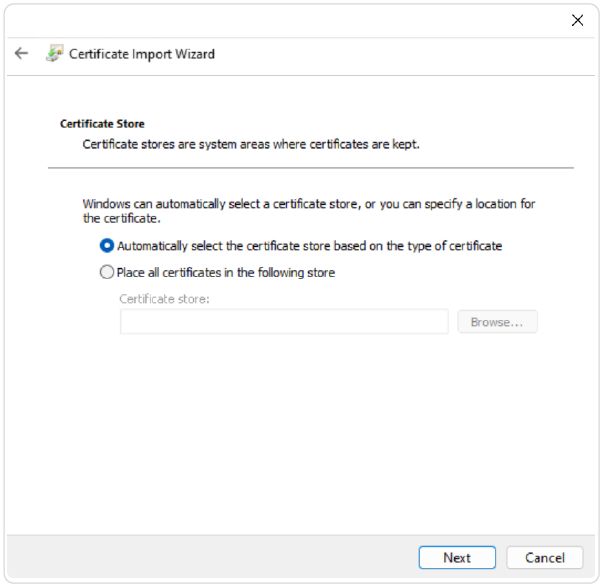 Step 5- If you have a cert file stored in a certificate store then choose the second option and browse the file from the store or choose the option, "Automatically select the certificate store based on the type of certificate." Then click on next.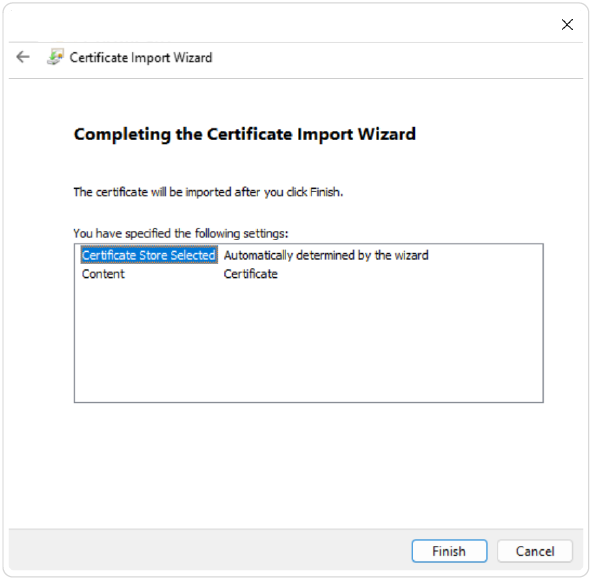 Step 6- Click on finish, and you will receive a message indicating, "Import was successful."

Once you have the certificate installed, check if the game works. If the problem persists and EasyAntiCheat does not work, there can be a possibility of the program being corrupted.
Re-install EasyAntiChat
If your EasyAntiChat is corrupted, you can follow the following steps to reinstall or repair it.
Navigate to the EasyAntiCheat folder in the game installation directory
Locate "EasyAntiCheat_Setup.exe"
Launch administrator installation mode
Choose the "install" option for the re-installation process
If you want to repair the corrupted file, simply choose the option "repair"
EasyAntiCheat program is installed with the game automatically and uninstalled when you remove the game. However, you can also remove the program manually from the system by choosing "Uninstall" in the last step instead of "install" or "repair."
Conclusion
"Error Validating EasyAntiCheat Code Signing Certificate" is common among gamers. However, it hinders the entire gaming experience, so fixing such errors becomes vital. There is no fix approach; you can take to fix such error. Multiple methods exist to handle such errors depending on the cause. So, depending on the grounds, choose the suitable option.
Related Articles: