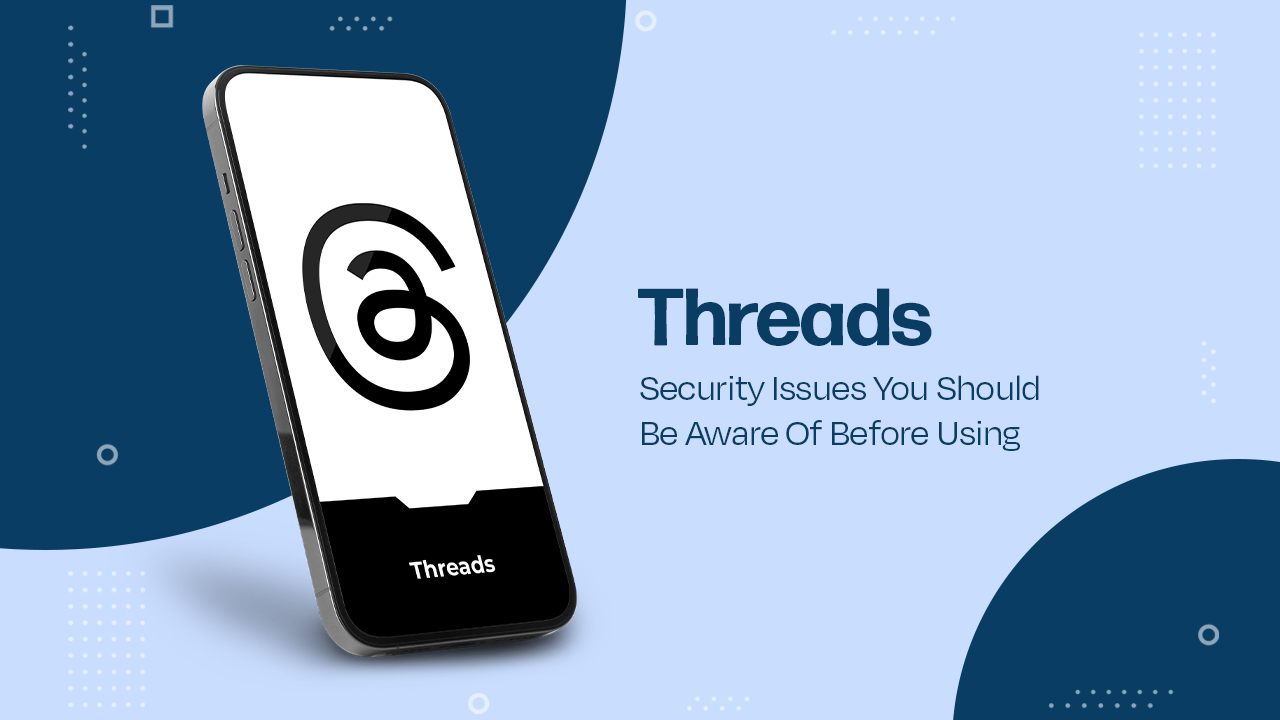 Threads : Security Issues You Should Be Aware Of Before Using
Meta's new app called Threads was launched on the 6th of July 2023 by Mark Zuckerberg. The app is an extension of the Instagram app and everybody is excited to talk about it as it is compared with Twitter. However, the app gained 30 million downloads in its first 16 hours. Currently, the app is available for 100 countries including the United States, Australia, Canada, India and Japan.
Meta's Threads: An Overview
Threads is Meta's free text-based app although users can also share photos and videos. It is a platform where people can have real-time conversation.
On the app, users can easily log in with their Instagram account and share text updates and even join public discussions too.
Users will have a 500-character limit and can share videos up to 5 minutes and photos up to 10.
It may sound like you have already experienced these features, and it sounds more like Twitter with a little spice or a topping. If yes, you'd be right! But that's not the real crux of the matter; the issue is whether you are safe or not using the app.
According to Jake Moore, a cybersecurity expert, the app makes a great target for scammers. He also cautions that scammers will probably appear.
After Meta released the popular app, Twitter threatened to sue Meta. According to Twitter News, Twitter is threatening to sue Meta for "systematic, willful, and unlawful misappropriation" of Twitter's trade secrets and intellectual property, as well as data scraping.
Alex Spiro, Elon Musk's attorney, informed Mark Zuckerberg of the same. Musk responded to the revelation by saying, "Competition is fine, cheating is not," implying that a significant legal dispute over the app is in the works.
The below is a leak of the letter sent by Spiro to Meta, as reported by @semafor.

The allegations centre on trade secrets shared by ex-Twitter employees hired by Meta, but also hints that Meta may have been scraping Twitter's data in violation of the terms of service. pic.twitter.com/Lo6usdsM7Q

— T(w)itter Daily News  (@TitterDaily) July 6, 2023
This app was developed by Instagram engineers and has all of Meta's privacy-related baggage. According to pCloud research, Facebook collects 57% of user data, and Instagram collects 79% of personal data. And we already know that these platforms are Meta's apps and built by their team. That's why security is again a concern in this newly built app. Let's find out the security issues you should be aware of while using the app.
Security Concerns To Know Before Using Instagram Threads
While the extensive data collected from Meta's app is the main worry, users should also think about security issues. There is no published information regarding these worries or hazards.
Personal Information Vulnerability

Meta is renowned for compiling useful and individualized data about users in order to profile their online personas. The use of this information to target advertising is startling. This problem has already drawn criticism for Facebook and Instagram numerous times. It appears that this app is acting in the same way.

According to the App Privacy blurb on the Apple App Store, a variety of user data is gathered from them, including health information, purchase histories, financial data,

location, contact lists, search and browsing history, usage data, and a vaguely concerning category of data referred to as sensitive info.

It is possible for third parties to receive information about your business, your team role, your employment history, and your performance reviews.

Data Harvesting Dangers

Jack Dorsey, a co-founder of Twitter and a former CEO, recently made fun of massive data harvesting. Musk endorsed Dorsey's tweet as well. The data gathered by Meta's new app is not limited to the list that is specified.

Delayed Launch in EU

Recently, Meta experienced a severe setback in Europe. The top court of the EU ruled that before using personal data for targeted advertising, user consent is essential. The legal foundation for Meta's behavioral ads was also rejected by the court.

The law of the bloc further stipulates that explicit consent must meet a higher level when collecting sensitive data, such as health information. As a result, Meta has postponed release in the EU. You may be wondering why? So, the reason is that the EU has restricted the app's use of personal data.

Even Meta's officials were fined $1.3 billion for breaking EU data privacy laws. As a result, The app is delaying the launch of the services for the time being due to uncertainty over the EU's digital market act.

Guarding Against Fake Accounts

The likelihood of malicious actors utilizing phishing emails to steal user credentials and gain access is significant. This is done in an effort to distribute false information. As Meta tries to enforce verified accounts by connecting Twitter's new rival app to active IG accounts, this situation is getting worse. It will only be a matter of time before bad actors figure out a means to get around this. The likelihood that scammers will use your information is simply too high to ignore.

Scam Message Threats

Although platforms and innovation should always make us pleased, they frequently serve as a haven for scammers and hackers. Hackers are currently working on uncovering security weaknesses and exploiting them.

It's critical to realize that hackers may attempt to communicate with you in order to steal your money or identity. Meta will undoubtedly increase app security, but that's the other side of the coin and may take some time. Unfortunately, scammers have become more skilled and have learned from the victims of successful frauds.

Beware of Information Requests

Hackers have frequently discovered new ways to abuse brand-new platforms, and this new platform is no exception. It can be attacked quickly. This could happen through fake profiles that ask for private data such as usernames, passwords, or financial information.

Fraudsters will pose as a legitimate user and lead you in the wrong direction. Additionally, hackers will pose as influencers or customer service agents to win your trust and persuade you into disclosing sensitive information or taking part in fraudulent actions.

Account Security at Stake

We are aware that this app is an addition to IG, which explains how all of your data is immediately fetched from one to another. As a result, it uses information from your IG account to generate usernames and identities.

Meta's new app is using your data from Instagram, and that's okay. But, the problem is if you wish to deactivate or delete your account, your Instagram account will automatically be deleted without any prior notice. Once you agree with terms and conditions, there's no going back without deleting your Instagram account.
Conclusion

Threads, although initially exciting, present legitimate concerns about the security and privacy of its users. As you navigate this new platform, understanding and addressing these security issues becomes essential. By staying informed and taking necessary precautions, you can make an informed decision about whether this app aligns with your privacy and security needs.