A brief guide to fix Error Code Sec Error Unknown Issuer in Firefox : SEC_ERROR_UNKNOWN_ISSUER
Security errors always disappoint end users, and they tend to leave the website and move to your rivals. All browsers with different nomenclature show security errors to warn users. In this article, we will discuss How to Fix Error Code SEC_ERROR_UNKNOWN_ISSUER in Firefox. This error means that Firefox cannot bind to the trusted certificate authority on the base of the domain name you enter in the Firefox browser. So, let us discuss this error and get an idea to fix it with few simple steps.


What Does SEC_ERROR_UNKNOWN_ISSUER Mean?
When a user tries to access a website on the Firefox browser, the website must submit a valid SSL certificate issued by an authenticated certificate authority. If the browser shows a SEC_ERROR_UNKNOWN_ISSUER or MOZILLA_PKIX_ERROR_MITM_DETECTED, it means the browser is not trusting the presented certificate and its certificate authority. It also intends that the root certificate of the certificate authority is removed from the root store. In this case, Firefox cannot put default trust on such a certificate and warns the end-user.
It is not safe to proceed on such websites and never add a certificate exception. An invalid certificate is an indication that an unknown third party has compromised the website.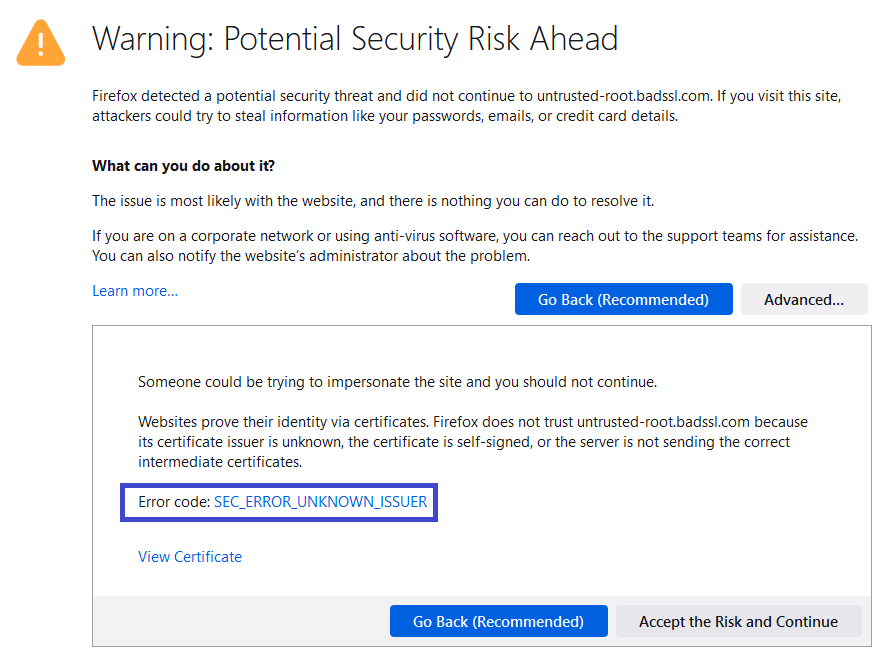 Few Tips to Overcome Error Code SEC_ERROR_UNKNOWN_ISSUER
Virus Scan
A virus scan is necessary if your system is infected with a virus. A virus prohibits the certificate from being found thus, interferes with Firefox's secure connection. If any virus is found, you should remove it and restart the PC and check the website for Firefox error SEC_ERROR_UNKNOWN_ISSUER.
Third-Party Software
It is recommended to remove third-party antivirus and use Microsoft antivirus software like windows defender. If you do not want to remove third party antivirus software then, you need to reinstall the software. It will allow antivirus software to place its certificate in Firefox's repository.
Monitor Traffic
Traffic monitoring software sometimes replaces their certificate and interrupts encrypted connections. It can cause an error on HTTPS-enabled websites. In this case, you need to contact IT department and find the solution for Firefox to work it correctly. There should be required certificates should be placed in a trusted repository of Firefox certificates.
Configure website Properly
When a user surfs the website and encounters any below message, it means there is a absent of an intermediate certificate . Here a user can click on the 'Advanced' button to move ahead.
The certificate is not trusted because the issuer certificate is unknown.
The server might not be sending the appropriate intermediate certificates.
An additional root certificate may need to be imported.
To solve this issue, you can take the help of a 3rd party SSL analysis tool to gauge the issue and check a site's configuration. If you face 'Chain issue' error in analysis tool then, you need to contact website owner.
Self-Signed Certificate
When a user encounters an ERROR_SELF_SIGNED_CERT error, it indicates that the website has a self-signed certificate. Once you click on the 'Advanced' button, you will see any below the message.
"There is no trust in the certificate, as it is self-signed."
"A self-signed certificate issued by an unrecognized certificate authority is not trusted by default. Self-signed certificates can protect your data from listening, but they do not say anything about the recipient of the data."
A self-signed certificate is ideal for intranet websites as these sites are not public facing sites, and  a user can ignore self-signed certificate warning on intranet sites. If there is a self-signed certificate on public facing sites, it shows an error, which means the certificate is not issued by a reputed certificate authority.
MiTM Detected
If Firefox error 'SEC_ERROR_UNKNOWN_ISSUER' is seen on multiple unrelated HTTPS websites then, it means a third party is interrupting and injecting a certificate that a Firefox browser does not trust it. In most cases, during the scanning of encrypted connections, antivirus software falsely convinces browser that a MiTM attack is ongoing on the server and throws a "MOZILLA_PKIX_ERROR_MITM_DETECTED" warning to users. If an antivirus scanning or system reboot does not work, it means you need to delete file cert8.db manually as it may be corrupted. The process is as follows for deleting such files.
Open Firefox browser and click on three horizontal lines on top of the right corner.
Find help (a question mark against it) at the bottom of the settings window.
Now, click on "Information to solve the problem."
Access' Show folder' in your profile under the application information.
Once the folder is open, access the browser and click on the Settings icon. Finally, click on the 'Exit' button.
Now open the folder that you have opened earlier and locate cert8.db file and delete it.
Restart Firefox browser and cert8.db file will be created automatically again.
Conclusion
Above discussed steps should be considered when you face the SEC_ERROR_UNKNOWN_ISSUER error. As a webmaster, you should check the installed SSL certificate and make sure a browser recognizes the installed certificate. If you are facing above error then, follow the above steps. If these steps do not work then, contact the website holder.
Related Articles: