An Overview of SAN SSL Certificate: A Single Solution to Secure Multiple Websites
SAN SSL certificate is a single certificate to secure multiple domains. It allows you to secure up to 250 domains during certificate life cycle. You don't need to purchase another certificate because one of your services is operated from a different domain.
You may already know that having an SSL certificate is particularly important for the security of your website as well as your user data. It protects your website from hackers by using modern encryption technology.
However, if you've multiple websites, covering all of them with an SSL certificate can be a time-saving task. Wouldn't it be great if you can secure multiple websites without the hassle of many certificates, which all end up saving up your cost?
You can achieve all this by SAN SSL certificates. The SAN refers to the Subject Alternative Name field that allows you secure multiple top-level domains and multi-level host names using a single multi-domain certificate. This reduces the hassle of your administrator and saves you time by managing different certificates for each site.
What is a SAN SSL Certificate?
The distinction of SAN certificates is that they allow you to protect multiple domains and subdomains with them. You don't need to purchase another certificate just because one of your services is operated from a different domain or subdomain, which means that you can secure your mail servers and more with only one certificate. Since it is all about one certificate, renewal and management of the certificates is quite easy. You can change or update domains from your certificate at any time.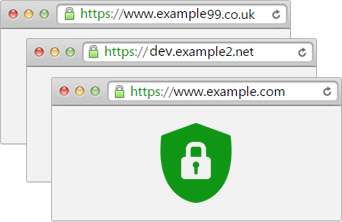 Another feature of SAN SSL certificate is that it can be set up to secure multiple websites and domains with a single dedicated IP. This contrasts with the single-domain SSL Certificate, where an IP address is needed for domain and certificate. However, with the arrival of SNI feature, you can secure multiple sites on a single IP address without requiring each domain with separate IP address.
SAN SSL is so powerful that you can install it on an unlimited number of servers. And if you are thinking of securing websites created on any of your sub-domains, the multi-domain SAN certificate also supports wildcard certificate features. Multi-Domain Wildcard certificate allows you to secure an unlimited number of first-level subdomains for every domain you choose. This is where things come full circle – one certificate to protect all your domains and subdomains.
How Does a SAN Certificate Work?
The Subject Alternative Name is a feature of SSL certificates that allows you to define all the domain names and subdomains on which you want your certificate to work. We often create subdomains for a wide range of functions like blogging, e-commerce, etc., and you can define all of them as a separate SAN in a multi-domain SAN SSL certificate.
Some examples of SAN may include:
example.com
example.org
example.info
example.net
mail.example.com
blog.example.com
new.blog.example.com
and so on.
SAN SSL certificates are also known as UCC SSL certificates (unified communications certificates). But when we look at differences then UCC certificates are specially invented for securing Microsoft Exchange, SharePoint, Lync, and Office Communications servers.
So you can also secure below services with a SAN or UCC certificate.
Autodiscover
OWA
POP3
IMAP4
ActiveSync
Outlook Anywhere
How to Check Subject Alternative Names in Certificate?
Suppose you want to check the technical information like SAN name included in your SSL certificate. You can do that with a few simple clicks.
Just click on the browser padlock icon available on the address bar, and then on the 'Certificate' option to view the site information.
On the dialogue box that appears next, choose the Details tab, and scroll down to the Subject Alternative Name option. You will be able to find out all SANs included in the certificate.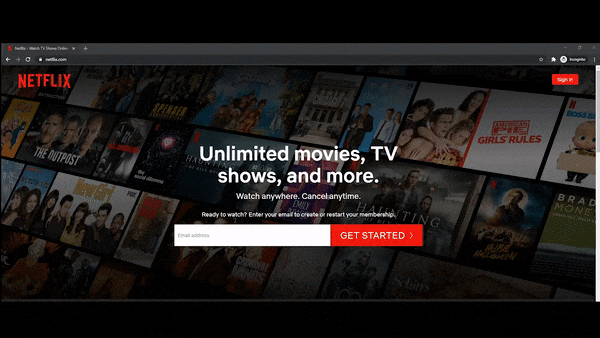 Who should get a SAN SSL Certificate?
Anyone who is looking for improved security, multi-level domains based on the entity, simplified certificate management, scalability and security of same domain bought with multiple TLDs. SAN SSL certificate is the best choice for all such people. Let us study each of these reasons in greater detail, which will help you understand why enterprises decide to go for this kind of certificates.
SAN SSL Certificates Cost
| | | | |
| --- | --- | --- | --- |
| | | | |
| Product Name | Comodo UCC/SAN/Multi-Domain SSL | Comodo Multi Domain Wildcard SSL | Comodo EV Multi Domain SSL Certificate |
| Price | | | |
| | | | |
| Algorithm | SHA-2 Enabled | SHA-2 Enabled | SHA-2 Enabled |
| Search Engine Visibility | SSL will boost Google rankings | SSL will boost Google rankings | SSL will boost Google rankings |
| Validation Type | Domain Validation - DV | Domain Validation - DV | Extended Validation - EV |
| Issuance Time | 15 minutes or less | 15 minutes or less | 5 - 15 Business Days |
| Domains Secured | Secure up to 250 domains | Multiple domains & its unlimited subdomains | Up to 100 multiple domains with single SSL |
| Server Licenses | Unlimited | Unlimited | Unlimited |
| CSR Encryption | 2048-bit | 2048-bit | 2048-bit |
| SSL Encryption | Up to 256-bit | Up to 256-bit | Up to 256-bit |
| Mobile & smartphone support | 99% | 99% | 99% |
| Browser compatibility | 99% | 99% | 99% |
| Client OS compatibility | 99% | 99% | 99% |
| Includes Malware Scan | | | |
| Includes Trust Seal | | | |
| Reissuance | Unlimited during certificate lifespan | Unlimited during certificate lifespan | Unlimited during certificate lifespan |
| Warranty | $10,000 USD | $10,000 USD | $1,750,000 USD |
| Refund Policy | 30 days full money back | 30 days full money back | 30 days full money back |
| Vendor Price | | | |
| Now Only | | | |
| | | | |
Benefits of SAN SSL Certificates
Let's take a look at the benefits of SAN SSL certificates as it allows you to secure your entire business environment using a single certificate and eliminate the need for purchasing, installing, and managing multiple certificates.
Improved Security

Security is the prime reason which compels anyone to choose the best SSL options. Neither you nor your customers want the personal and financial data to be leaked and further misused through illegal access. An SSL certificate is necessary for all your domains and subdomains to ensure that. However, managing site security can become a difficult task if you've to manage multiple SSL certificates. There may be times when you do not renew a certificate, thus compromising the security of the site whose certificate has expired. And if one site is compromised, it can affect all your other sites too. You can avoid all of that and improve your security for all sites by protecting all your domains and websites with a single SAN SSL certificate.

Validate Your Domain and/or Organization

It may sound simple that the certificate is securing the website. However, there is a complete validation process before any SAN SSL certificate is issued. A trusted certificate authority (CA) first verifies the ownership of a domain name and authorizes the organization that owns it. Validation of certificates is executed at multiple levels depending on the entity which applies for the certificate.

Now, SAN SSL certificates come in either Domain Validated (DV) or Business Validated (OV or EV) types. This means you can choose anything between an easy to obtain DV certificate or a highly trusted EV certificate.  Domain validation is a one-step process in which the CA only verifies that the person or entity applying for the SAN certificate is the actual owner of the domain for which he/she is using. The validation process is complex for organization validation (OV) SSL certificate, which makes it a step further by confirming the existence of business based on documentary proof. Extended Validation SSL is best among all of SAN SSL cert because it goes beyond the OV SSL verification process by requiring at least three years of business continuity.

Scalability

SAN SSL certificates also significantly increase your organization's scalability. You no longer need to purchase and install another certificate on your server while creating a new website for your business, which is a big deal when you consider the whole process of certificate issuance. It requires generating certificate signing requests (CSR), uploading it to the vendor of SSL certificate, getting the certificate issued and installation. Depending on the number of websites you want to create (suppose you want to create a micro-site for all your products), this can consume a lot of time. A SAN SSL certificate saves you from wasting your time and money in that – you can add the name of your new sites to your existing SSL certificate, and it has done.

Reduced Costs

A SAN SSL certificate not only eases the process of certificate management but also reduces costs and improves your overall efficiency. When you need to buy and renew multiple certificates for all your websites, the costs can collectively add up, and you may start spending a ton on SSL certificates alone. SAN SSL certificates, though initially costlier than a single domain certificate, still turn out to be cheaper in the long run because when you purchase them, you don't need to buy another certificate for a long time. You spend money on the purchase and renewal of one single certificate.

Securing Domains with Diverse TLDs

Many times, it is seen that enterprises buy the same domain name with multiple TLDs (.com, .org, .net, etc.) and redirect all of them to their website. This helps them protect their brand name and get the advantage of Google's localized search results. However, obtaining distinct SSL certificates for each domain with different TLD used is a matter of both time and money consumption. SAN SSL certificates come to rescue in these situations too as they can cover the security of all domain names with diverse TLDs.

Compatible with All Major Browsers

SAN SSL certificates are compatible with all browsers, mobiles, and devices. Therefore, SAN certificates offer multiple website security solutions that provide the best security with efficiency and efficacy. These cost-effective certificates come backed by unbeatable support without any hassles.
In short, a SAN SSL certificate is an easy yet powerful tool to secure all your websites created on various domains and subdomains.  At the cost of just one single SAN SSL certificate, you can even secure multiple domains hosted on different TLDs. Thus, managing and implementing a cost-effective SAN certificate to secure your website is an easy job to protect both your and business data as well as customer data from any unauthorized access.
So now if you are convinced that a SAN SSL certificate will be best suited for your needs, get yours today.
Related Articles –