It is painful and irritating to get an individual certificate to secure WordPress Multisite Network, you can do it with a single SSL certificate. Once an SSL certificate is implemented on your sites, users' all data transmits using encryption technology. It will prevent your website from being hacked and increase the credibility of your website.
Multisite Network allows you to run multiple websites by setting up a single WordPress on your server. It is essential to have HTTPS secure connection for WordPress Multisite Network in order to secure users' data.
Google also recommends HTTPS everywhere and passes search engine ranking advantage to SSL secured website. So, SSL will help to increase your business revenue and improve brand reputation.
Choose Right SSL for WordPress Multisite Network
There are many types of SSL certificates available in the market and which is right SSL certificate product, depends on how you set up the network for your multiple sites on WordPress.
Multisite as Subdirectories
A Standard SSL certificate can be used to secure multisite network with subdirectory paths.
For Example, https://yoursite.com/example1, https://yoursite.com/example2

Standard SSL follows automated domains validation procedure; as a result, you will get the certificate immediately at the lowest price.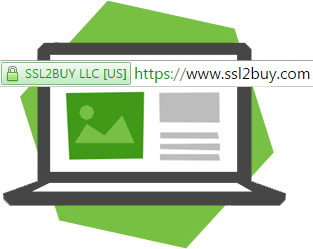 You can also go with EV SSL certificate to get more trustworthiness for your website; it will follow strict validation process and verify your organization existence and reliability by confirming business documentations.
EV SSL certificate will display your company name into green address bar that will enhance the confidence of visitors to make online deals.
CA follows rigorous extended validation process that there is no chance to issue EV SSL certificate for phishing websites. Therefore, online users easily distinguish which one website is legit or fake by demonstrating green address bar.
Multisite as Subdomains
If manage multiple subdomains using Multisite Network, then Wildcard SSL certificate is an ideal solution. You should add (*) asterisk just before the common name, while you are requesting for Wildcard SSL certificate.
For example, request a certificate for *.yoursite.com, you can secure https://example1.yoursite.com, https://example2.yoursite.com, https://anything.yoursite.com.

Multisite as Different Domains
If you want to map multiple websites (like – example1.com, example2.com, etc.) by using WordPress Multisite Network, then you have two choices like use WPMU Domain Mapping or you can map domains manually through the advanced admin right in the network setting.

Multi-Domain (SAN) SSL is the best choice to secure your multiple websites with a single certificate. You should request a certificate for your primary domain and add other domain names as an additional SANs.
For example:
https://yoursite.com (Primary Domain Name)
https://yoursite-example1.com (Subject Alternative Name)
https://yoursite-example2.com (Subject Alternative Name)
Multi Domain SSL comes with unlimited server licenses that you can apply the same certificate on multiple servers, you don't need to pay any single penny to get additional server license.
Where to Buy SSL Certificate?
Obtain an SSL certificate directly from certificate authorities that the cost can be high compared to resellers. You can go with SSL2BUY, is an authorized reseller of leading CAs and always strive to attract their potential customers by offering heavy discount on SSL certificates. When you choose SSL2BUY as your web security partner, you will get the same certificate as provided by leading CA at lowest price and experience unparalleled services such 24 x 7 technical supports, free reissue anytime during certificate lifespan, extended warranty, free site seal and 30 days refund guarantee.
After requesting an SSL certificate, CA will review it and send your certificate via email. You need to install the certificate on your desired server.
Enable HTTPS on Entire Network
If you want to enable HTTPS everywhere, then there are simple steps that can make your multisite network secure with robust SSL certificate. This will activate SSL across the network.
Browse Network Admin dashboard, click on setting where you will have Domain Mapping option, scroll down the section "Force http/https (Only for original domain).
Select "Yes" option that will enable https on login and admin pages.
There is a second label named "force https or http for front end pages" where you have to select Force https. It means your main website and it's all web pages are secured with SSL and URLs occurring with HTTPS in the browser address bar indicates that the website has the highest level of security.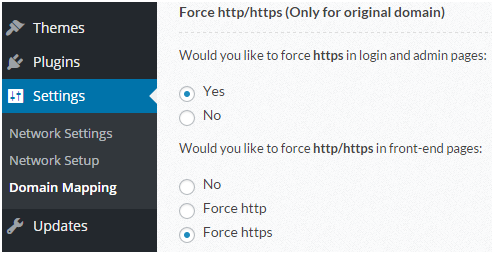 Now, the main website is protected with SSL protocol. Further, it is also essential to protect user's websites, you can follow below steps.
Your users are stated as Admin users, there are four features, and you can allow them to select pages to be excluded from being mapped as well they can use your SSL certificate.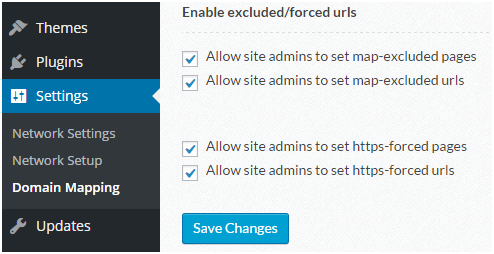 Once you are done, your users can browse admin dashboard>>Tools>>Domain mapping and can add their domain name and share your SSL certificate without allowing them to purchase individual certificate. Thus, a single certificate can secure users' multisite on WordPress.
Once you set SSL certificate on Multisite, you should look for the green padlock in the address bar. If the padlock isn't green and facing nonsecure items warning, it means some HTTP non-secure elements (like- Images, CSS, JavaScript) are being delivered on HTTPS secure page. You can identify such non-secure files using "Why No Padlock" tool. It will give you full details about insecure elements on your website and shows you the secured status of a website.  To fix nonsecure items warning error, you should refer this article.
Before configuration of SSL on Multisite, it is recommended to take backup of your WordPress website as it helps in case of server crash, external attack and you can get back the active WP version. If any error occurs on the server, you may lose data like image, video or complete access to the website.