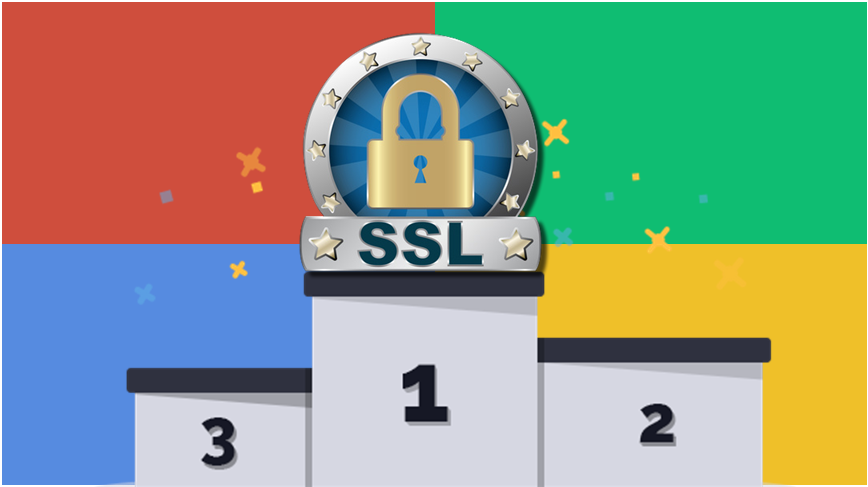 Many organizations believe that HTTPS will influence SEO ranking in a negative way and penalize the website, if they redirect website from HTTP to HTTPS.
Well, it is a complete myth. However, we look at the overall security of the website, then HTTPS is an ideal choice that not only protects the web site but also ensures your customers about privacy protection.
Fact:
Recently, Google has announced that HTTPS sites will be seen as a ranking signal, the motto behind the announcement is to create a secure environment for the whole internet world. It is false that Google is against HTTPS websites because the search engine giant puts customer and web security on priority base and for that Google frequently brings changes in their algorithms to give users a better place for surfing after all.
While moving to HTTPS, you should properly redirect each URL in a correct manner, which will not affect your search rankings and your long-term ranking will be preserved.
Google Loves Security:
Google hates spam and would like to make a secure world for users and therefore Google is motivating to a secure web experience. An additional "S" ensures that the website is secured with SSL/TLS protocol. All transmitting data will remain encrypted. It is very tough to break encrypted information, and users can peacefully transmit data like credit or debit card details, emails, login credentials.
With SSL, users can search safely over the Google search engine, and avoid themselves from fake or malicious websites. Google approximately penalizes 10000 websites on a daily base to offer a secure search to global users.
Google Gives priority to HTTPS sites in SERP:
HTTPS as a signal booster is a lightweight signal that will influence 1% of global queries, but when a user search for any query, there will be HTTPS site on the top of the search result, which also ensures users about web site security.
In the below example, You can see that SSL secure website will have advantages over the non-encrypted website (HTTP). It is clear that Google has given the advantage to secure website compare to the non-encrypted website.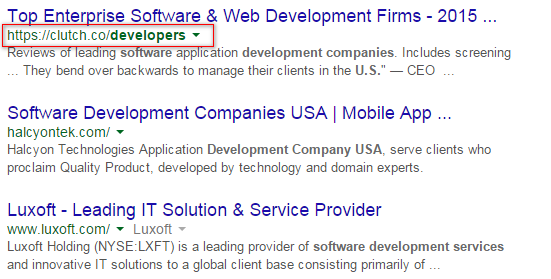 HTTPS Sites – Customers' First Choice:
Google does mention the encrypted sites with HTTPS and sites that have no encryption will have only HTTP at the initial of the website address. When users see the "HTTPS" in the search engine, there are more chance to users click on "HTTPS" website. Security conscious customers will love to engage with encrypted sites.
Such sites will have higher click-through ratio than HTTP websites. Google is indirectly telling to customers and visitors that which sites (HTTPS) they should go with.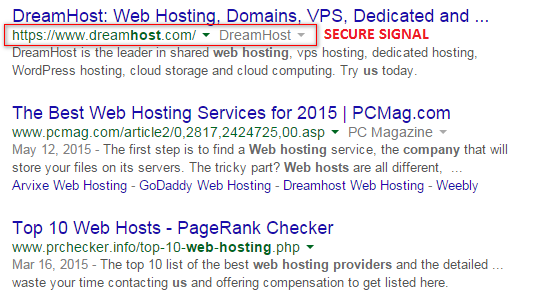 HTTPS Everywhere:
Google announced at I/O 2014 about "HTTPS Everywhere" to make web search encrypted, thereby the search giant ensures people that their communications are safe. As more people engage in the online world, it is necessary to provide a safe experience to information seekers.
Even, content-based websites should have HTTPS for their content integrity and website authentication because Credibility of the information is a vital part for any online business triumph. If your content related website runs over HTTPS, people can easily gauge about the website and content dependability, ensure that the information is authentic.