With the springing up of online shopping, the concept of web security assurance also matters a lot in the web world. Especially, when customers visit an unknown website for the first time, there should be a significant trust to ensure them that they are on a reliable website.
When visitors see the SSL Secured Seal on your website then they ensure that the business website is legitimate and secure. It will help to enhance the trust of your users and encourage them to make online deals.
SSL seal secures the website as well it shows that the website is authenticated and audited by a reputed CA. SSL seal assures that customers' online transactions are quite safe against eavesdropping and snooping.
The SSL secured seal comes free with purchase of an SSL certificate. There are few most authenticated SSL seals as if the Norton Secured Seal, Thawte Trust Seal, GeoTrust True Site Seal, Comodo Secure Seal, which have earned an enormous conviction from web users.
SSL Seal for Customers Confident & Web Security:
With the evolving threats and fraud activities, SSL Seal plays a vital role in providing assurance to customers and visitors. It may happen that a customer does not know much about SSL certificate, but when he/she observes a Secured Seal, customer surely entice to visit the website.
SSL Seal displays the current date and time on the seal with the authority's name. It prevents shopping cart abandonment and increase sales figure of a business. A website owner can fix the seal on a website, which in turn brings more web conversion.
Trust Seal for Privacy & Business Identity:
A Trust seal is slightly different from the SSL seal as the trust seal ensures visitors that the site identity is genuine and reliable. Trust seal validates the website and assures that a trusted third party has examined the website and the site is authenticated. The trust seal does not reveal about any technical security but shows the verified business status.
Trust Seals Versus Site Seals:
There is Trust Seal as well SSL seal available, users frequently get confused with these two seals. As we have seen in the above discussion that, Trust seal does not indicate about the website security, but the company or concerned third party only validates the business by checking the business related documents. While SSL Seal actually represents the technical security part of the website and prevents the site from potential security risk. When a user clicks on the SSL seal, it shows that a reputed certificate authority has certified the website.
What Does Baymard Survey Say?
In the survey held in 2013 by Baymard Institute was revealed that Norton secured seal was on the top number among other site seals. The survey covered 1286 responds and out of that, McAfee Secure seal remained in second position with 22.9% respondents, while TRUSTe (13.2%), Thawte (6%), and GeoTrust (3.1%) were remained in subsequent positions.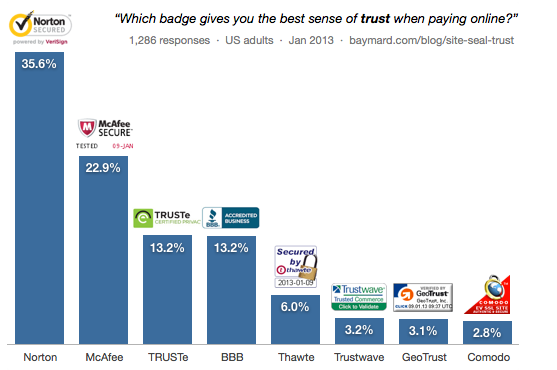 If we see the above graph there are mainly three Trust Seals like McAfee, TRUSTe, and BBB while others are SSL seals like Norton Secured Seal, Thawte, Trustwave, GeoTrust, and Comodo. From the point of view of authentication and web conversions, SSL seal is always preferable for any website. The Norton secured Seal seems the best site seal, which customers mostly trust while purchasing products on the website.
Benefits of Norton Secured Seal: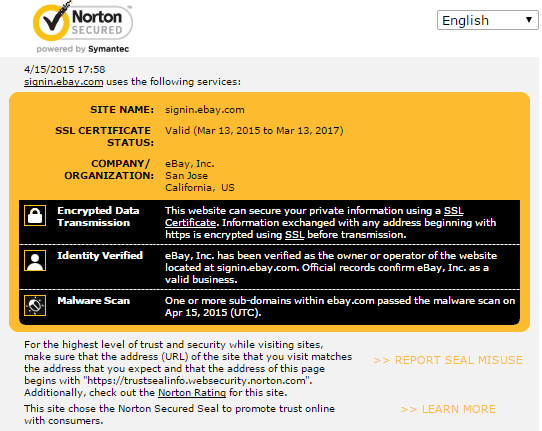 The Norton Secured Seal provides a great sense of security and trust to customers over the site. The Norton seal comes with an inbuilt anti-malware protection feature that really keeps your website clean from malware and other malicious code and saves the website from being blacklisted by search engines. A website owner can schedule the scan for the safety of online information. On finding any suspicious activity on the website, the Norton seal instantly gives an alert and prompts for a rapid removal action.
Besides, the Norton secured seal comes with seal-in-search feature which is placed next to the website result link in a search engine. It helps visitors and customers to identify the trusted website from the bunch of website links in a search engine.
Norton's free vulnerability assessment resolves website weakness by identifying critical flaws in web based application, database, server, and network device.
Facts of Norton Secured Seal:
There are some appalling facts regarding the Norton Secured Seal, which makes it most trusted and desired site seal. The facts are as under:
94% of shoppers are willing to interact with a checkout page to finish a purchase process when a Norton™ Secured Seal is displayed on the checkout page.
77% of online shoppers are mostly familiar with the Norton Seal than other site seals.
65% of online shoppers believe that the Norton Seal keeps them away from an infected website and is safe to browse.
Is Investment in SSL Seal is Worth?
Investing in SSL Seal is a wise decision that helps to drive your customers and visitors to your website and give them a confidence to click. If you consider the advantage of the price, then it is worth the return on investment because,
It helps to increase the web conversion rate, which results in a higher sales ratio.
Most of the customers believe in SSL seal as a mark of security means the SSL seal can influence their purchase decision.
Your website will have an option of daily malware scanning (with Norton Secured Seal) that ensures customers about their online information security.
SSL seal is not only a security icon, but also a mark of customer's trust. It assures customers that a reputed certificate authority has verified and examined the business.