You should have SSH access to server and root level access to create CSR key and private key. You can follow the same process to create CSR key for single domain SSL, single sub-domain SSL and wildcard SSL certificates.



Step1: You can use putty to connect apache server SSH and login as root
Step2: Type below command on prompt
openssl req -new -newkey rsa:2048 -nodes -keyout yourdomain.key -out yourdomain.csr
This command will create two files Private Key and CSR Key called Certificate Signing Request. You should keep copy of private key and use CSR key to complete SSL configuration process.
You will be prompted to enter below information: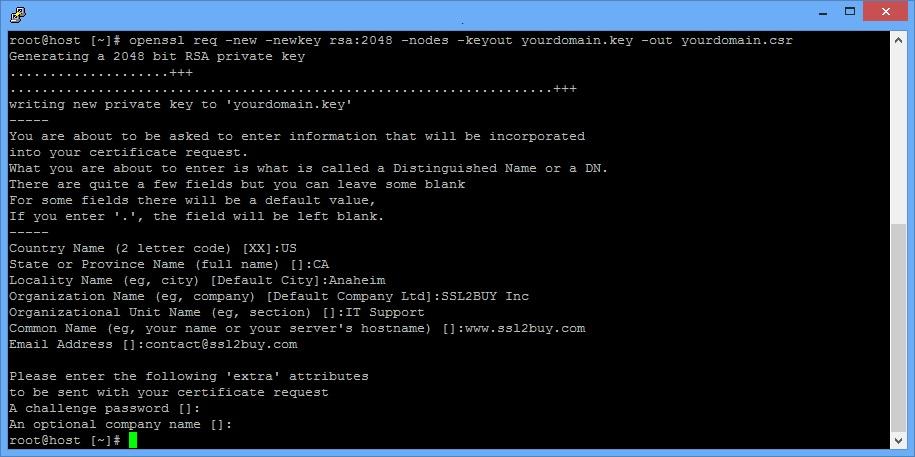 Country Name (2 letter code) [XX]:
State or Province Name (full name) []:
Locality Name (eg, city) [Default City]:
Organization Name (eg, company) [Default Company Ltd]:
Organizational Unit Name (eg, section) []:
Common Name (eg, your name or your server's hostname) []:
(Here you should enter the correct domain name. SSL certificate will be issued for the same name. If you've purchased wildcard SSL, you enter common name like *.yourdomain.com)
Please enter the following 'extra' attributes to be sent with your certificate request
A challenge password []: DO NOT USE PASSWORD
An optional company name []:
You've successfully generated CSR key. Use text editor to copy key file and submit to SSL configuration form.
Related Article: